Australia's modified car scene is truly something special. Whenever I see a movement or style on the internet/overseas, I know that someone down under is trying to make it happen. Fan Zhang founder of "Itasha Australia" is one of those people. Since starting his own Itasha build in 2011, he has helped a number of Itasha novices go from drawing board to finished product.
It started with a 250gt Skyline and a lifelong love for anime and manga. With some convincing from his wife, Zhang decided to make his dreams of Itasha a reality. He first checked with the RTA to ensure everything he wanted to do was legal (it was!). Over the next few months, all his free time was spent designing, ordering and applying endless amounts of prints to eventually turn his car into a rolling tribute to "Asuka" from "Evangelion".
Unfortunately, the 250GT was written off after a sever rear-end accident; however Zhang saw this as an opportunity to start a new design utilizing all the experience and knowledge he had achieved from his first attempt. He bought a white 350gt from a friend, wrapped the entire car in red, and began the process all over again. All the cars on show at SMASH! were somehow influenced by Fan Zhang, by providing wisdom on forums, helping out old friends, and even getting his wife's car (white Yaris) a suitably matching Evangalion Itasha.
Sydney Manga and Anime Show (SMASH!) was the perfect place to exhibit these automotive curiosities, which constantly drew crowds of show-goers posing with their favourite cars and arguing about which car was the best. I caught up with Arthur Dedchpong, (the only guy wearing a Zen Garage hoodie at an anime convention!) who is the proud owner of the dark convertible 350Z coated in designs from the "Kantai Collection" franchise.
"My motivation was from seeing all these cars online on blogs – and on my trip to Japan 5 or so years ago in Akihabara. Parked along the main thoroughfare were all (Itasha) vehicles ranging from Vans, Motorbikes and even Bicycles! They looked so good and you could really feel the passion and love they've put into it."
Upon returning to Melbourne, Arthur thought that Australia could do Itasha bigger and better. He got into contact with Fan Zhang through JDM Style Tuning forums and started his own Itasha journey.
"We are fans of cars and Anime/Manga culture; being able to bring the two together is a dream come true."
Considering the opposition from police/government that traditional means of aesthetic car modification receives, Itasha is completely legal and very accessible. Budget is determined by quality and ones ability to take steps into their own hands. Zhang did his own designs and applications at home, with the only outside expense being printing.
"3M, Avery or Japanese films costs about $100 per meter, but if you downgrade to products like those from Taiwan or China, then expect about $300-$500 for two doors and a bonnet before counting shipping costs."
With overall cheaper cars, a lack of visual regulation, and the determination of the Australian car scene; the only thing holding us back from becoming a big name in Itasha is ourselves. While Arthur has copped a bit of hate online about his creative style, Zhang and his wife daily drive their Itasha cars, and have only had positive reactions.
"Why I advocate Australia as a perfect place for Itasha is we have easy regulations, cheap cars and an accepting public. I've had mixed reactions… But if someone understands this then you will feel a lot of pride."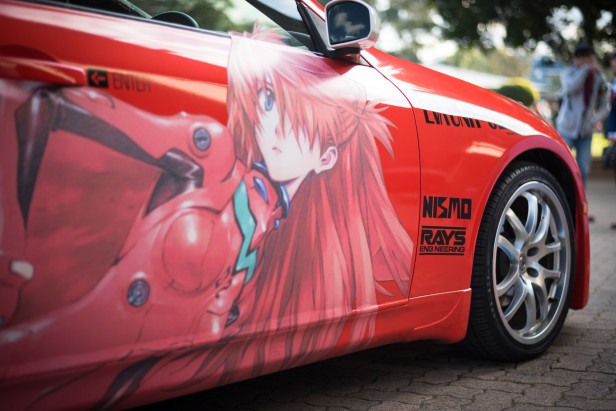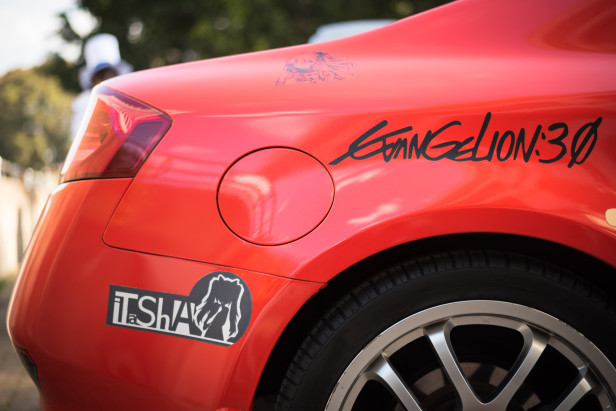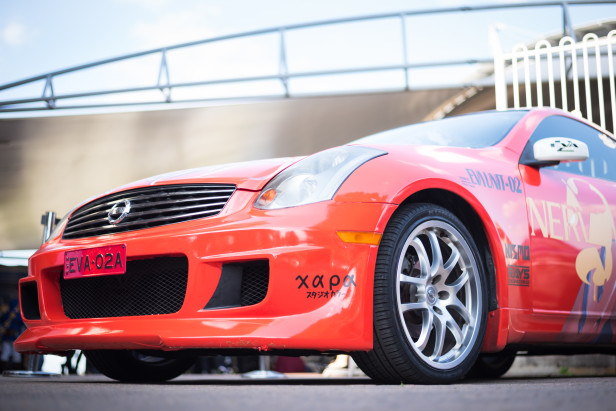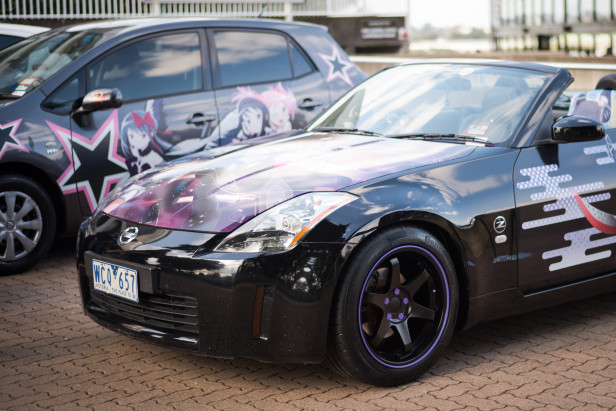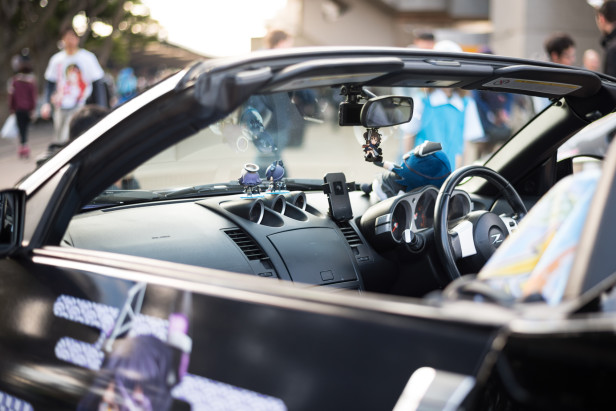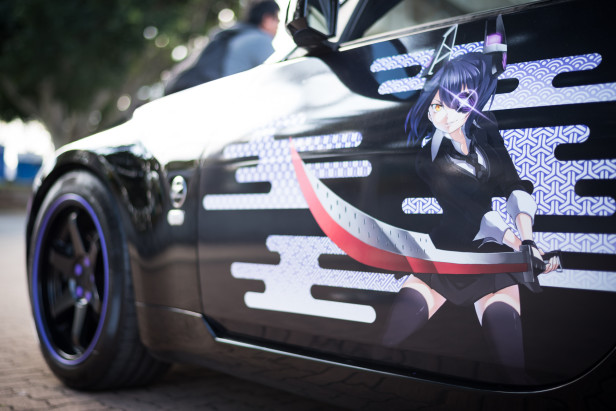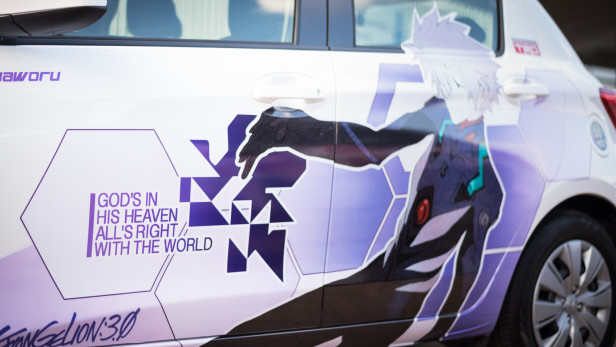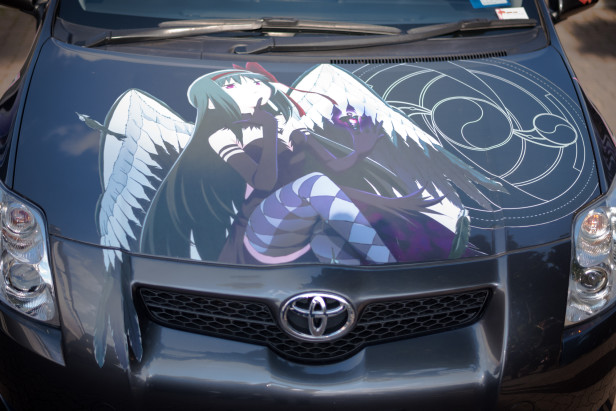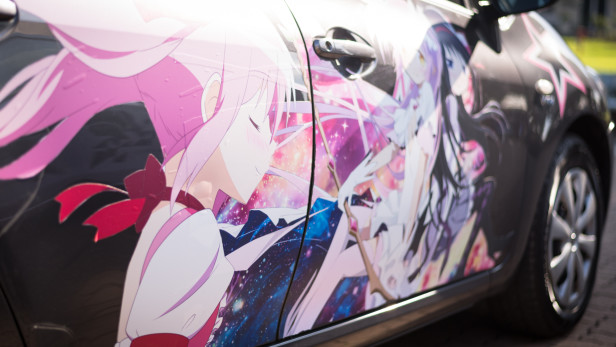 Jaiyu Xu's 200SX had some mean fitment, an awesome Utaha Kasumigaoka Itasha design, and a bit of power to back up the image. His wife cosplayed Utaha too!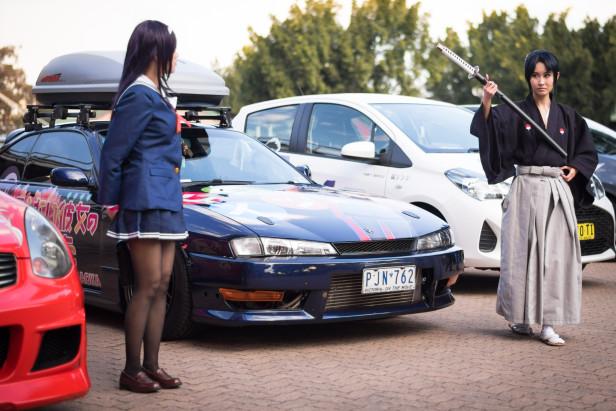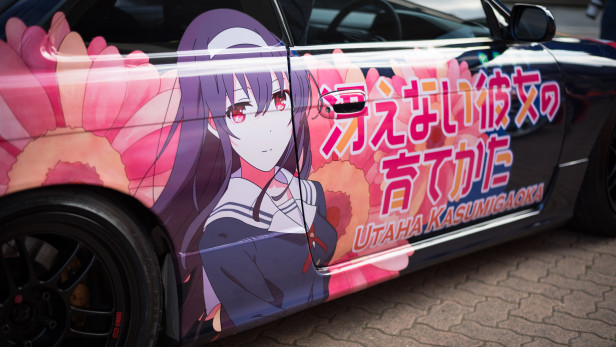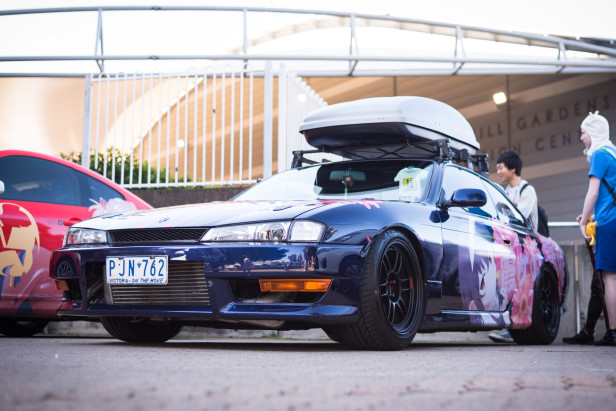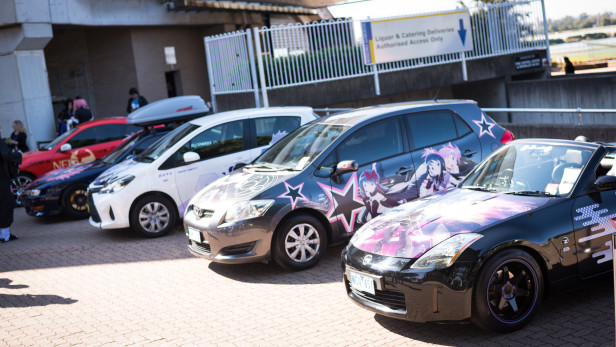 I would like to thank Arthur and Fan for all the knowledge and stories, the Itasha crew that traveled many km's to exhibit their cars, and all organisers/supporters of 'SMASH!'.
If you have any questions, thoughts or comments about Itasha make sure to leave them below or head over to Itasha Australia.