My childhood is constantly being re-awakened. All my fave comic books are now movies. The skate companies have re-issued skate decks from the 90's and now this; Star Wars Battlefront. The most authentic, real deal Star Wars game ever made to date.
A few weeks ago I had EA Games over at my place to shoot the 2nd video of the Need For Speed x Zen Garage S15 Build. The guys noticed that I had Star Wars stuff all over my place, and we got talking about Battlefront, a few days later a t-shirt and a copy of the game was in my mailbox!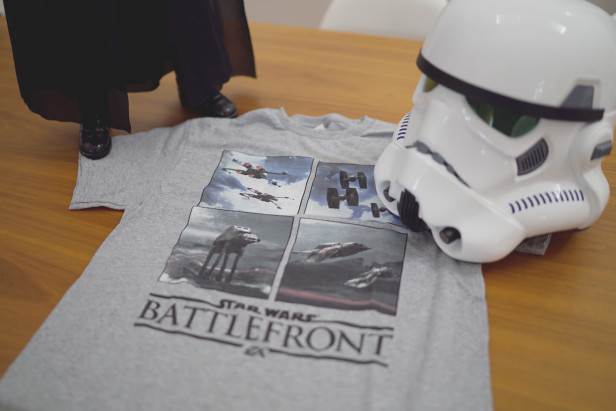 I was crazy into first person shooters in the late 90's, especially multiplayer Quake and Quake II sessions which often went from 5PM (straight after work!) till midnight. At some stage more recently I did have a go at the more realistic shooters around, but I got so sick of dying so quickly every time I re-spawned that I just gave up on them entirely.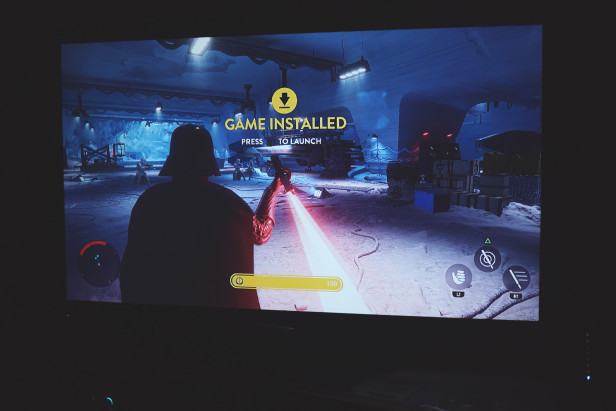 I've been playing Battlefront non-stop for 2 days now. One of the coolest things about the game straight off the bat is that you get to play Darth Vader and wipe out rebels whilst you're waiting for the game to install! Very cool!
Initially I was super upset that there was no story mode at all. Usually I don't care for story modes but this is Star Wars!!! I did a few training missions, then got straight into multiplayer. There's a lot of different style of games; death match, capture the flag, waves of enemies to survive through… and then there's the ability to use all the vehicles too.
Levelling up isn't that easy, but you've got to in order to get better equipped. I found that completing challenges helped and for me, and death match is where I've spent most of my time gaining points to unlock goodies like the jet pack which makes getting to higher ground, or bailing out when you're getting shot at, easy.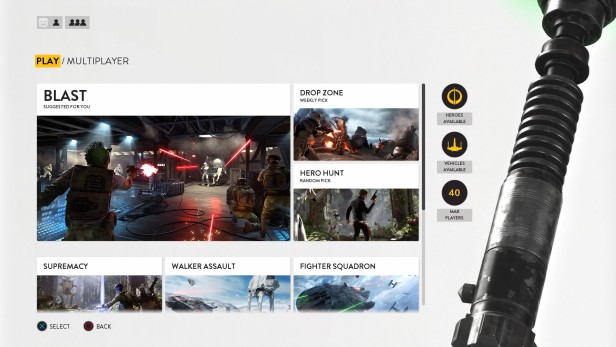 All in all the game is super polished and plays smooth as, loading is fast and even the waits between online matches are short enough to keep gameplay rolling. The sounds are truly AMAZING when you're playing with the volume up loud too, so much so that I'm a little tempted to turn John Williams' amazing orchestral score off!
End of the day; if you're a Star Wars fan you'll find it hard not to enjoy Star Wars Battlefield, especially for the first few hours where you'll be pinching yourself that you're really playing this game (yes it's real life!) and experiencing the Star Wars universe like never before.
Pros:
– It's immersive. The Star Wars Universe is bang on!
– The sound design is amazing! AMAZING!
– The entire game interface is intuitive, minimalist and everything loads fast and smooth too.
Cons:
– Kinda left me wishing there was a single player story mode.
– Some of the earlier, standard/cheaper weapons are actually some of the best.
– I still have an issue aiming with a controller (give me a mouse any day!).
For more info, visit: https://www.facebook.com/EAGames
#StarWarsBattlefront