I've never owned a V8, nor have I owned anything made earlier than 1990. So I don't really have too much connection with the hotrodding community aside from my penchant for loud exhausts, going fast and feeling oppressed by 'The Man'. That said, Moon also have a history with custom motorcycles and I can definitely dig that.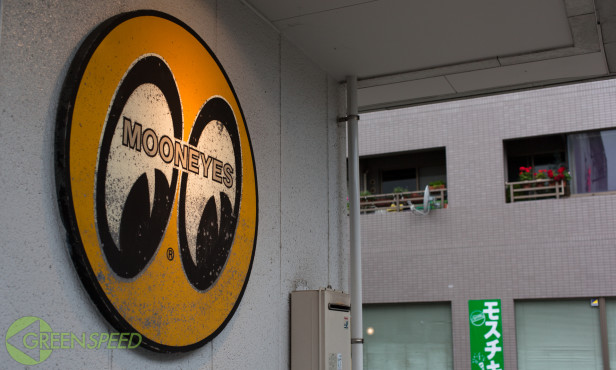 I have always loved the Mooneyes brand, the camp slogans and styling, the pinstripes and the cutesy logo contrasting heavily against spun aluminium and leather. So, I made my pilgrimage to Mooneyes' Area 1 base in Honmoku, Yokohama.
Mooneyes was the brainchild of Dean Moon, a hotrodder who opened his performance parts business in the 50's behind his father's Moon Cafe in California. Moon died in 1987 and a few years later the company was resurrected by Shige Suganuma, a long-time friend and Mooneyes dealer in Japan.
Anyway, enough of the history lesson. My Subaru Brumby was probably the closest thing I owned to anything even remotely 'Moon', lowered within an inch of its life, whitewalls and chrome draglite-style wheels. Many people referred to my Brumby as a baby El Camino, so here is a lovely black example being worked on by Mooneyes' project manager Louie.