We are BACK, with another glorious coverage on one to the East Coast's hottest events that is Springfest! Springfest is hosted by Virginia local club Sumospeed. The front runner and organizer of the show is none other than Nick Gressley. Springfest is held in Virginia Beach, Virginia at the Virginia Beach Convention Center. One of the greatest things about the event that happened is the opportunity for media to come in at 7am and shoot for an hour. The whole venue with wide open lighting to ourselves was awesome! Photographers such as Elliott Powell, Aidan Templin, Chops Creative, Kaley Fennell to name a few that were covering the event.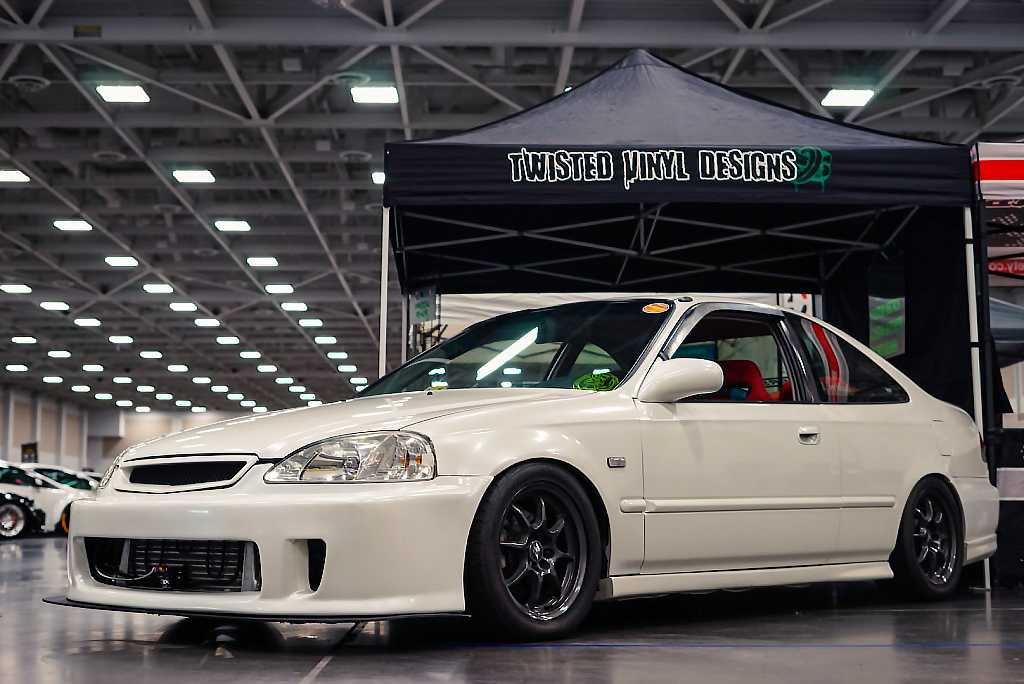 (Twitsted Vinyl Designs Booth)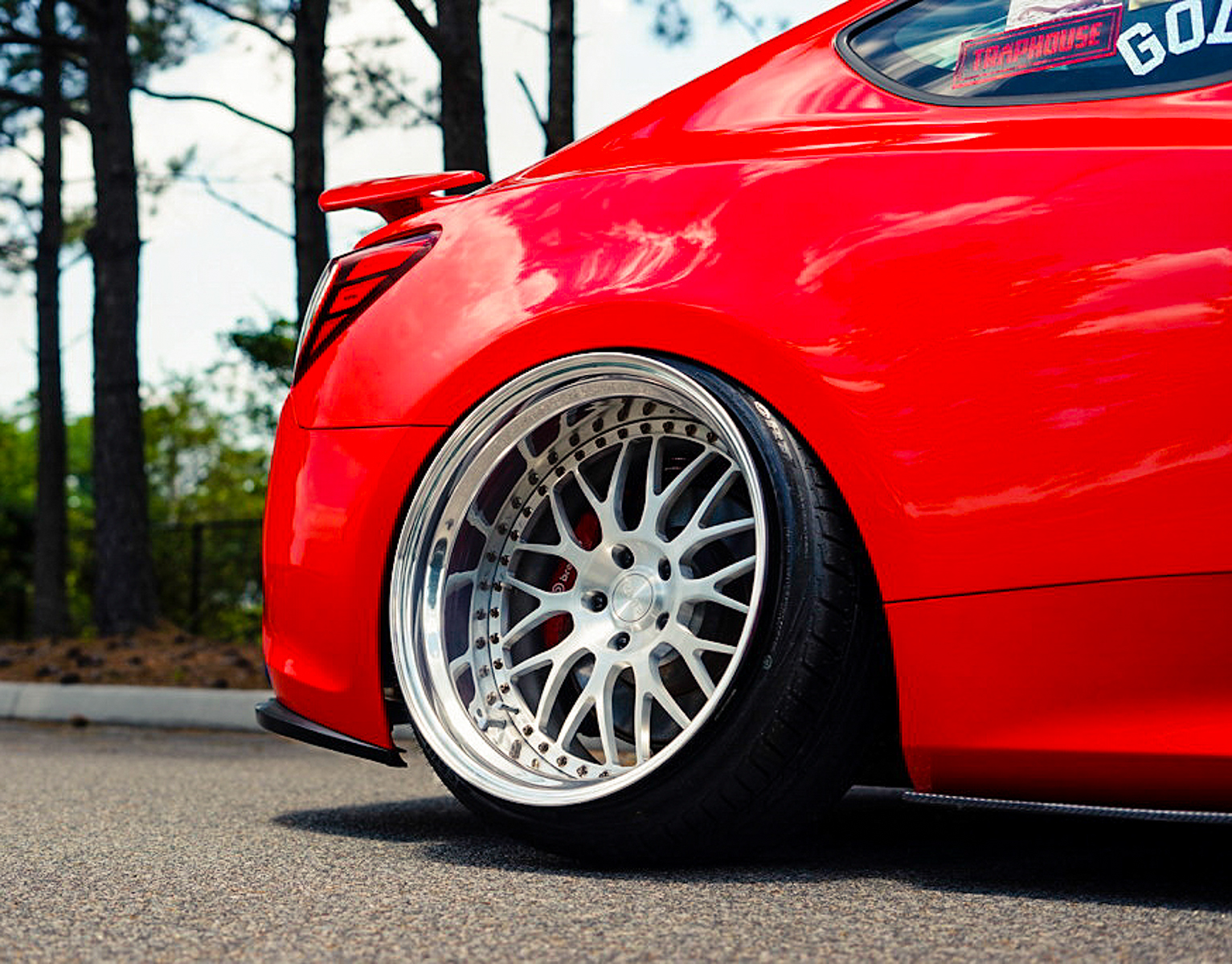 (James Gautier Sudani Style Hyundai Genesis Coupe)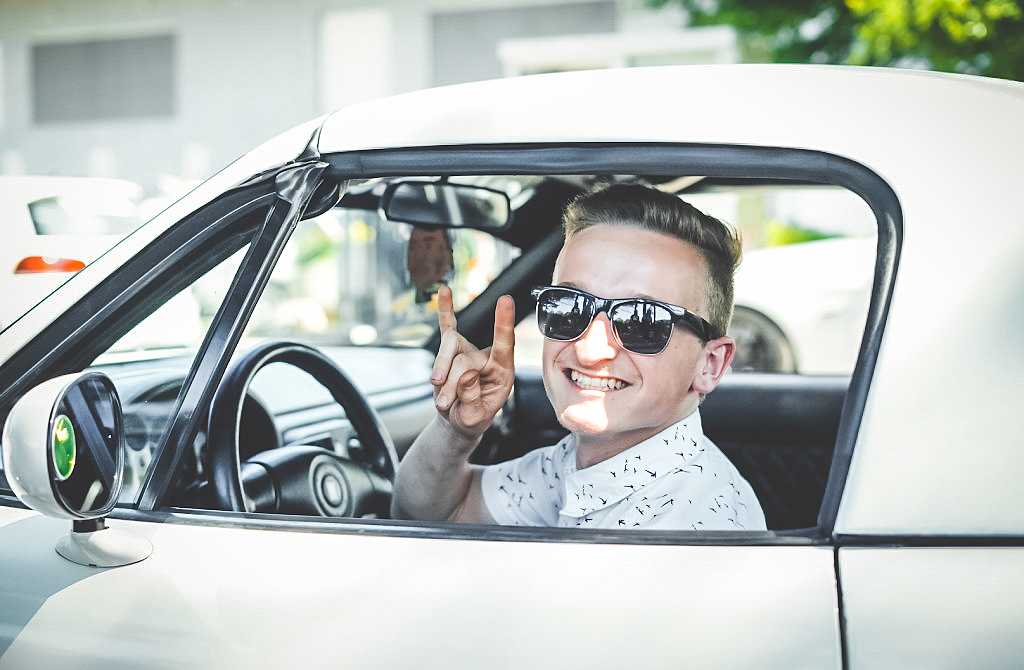 (Aidan Templin aka Mr. Prezident)
Videographers Anthony Purcell (Halcyon) and Tremond Mccollum (In-Focus and Tarmac Apparel) were already filming the venue before any of us got up in time to go shoot early. Spacing to shoot was exceptionally greater than years past, and the lighting was just as good. LED lighting inside and no more that God awful fluorescent lighting. Inside some new and exciting builds were in attendance. One of the many great builds there that caught my eye was a JGTC inspired Toyota MR2. The color is almost like the Autobacs Toyota MR-S. Gorgeous machine! Making his first ever trip down to Virginia Beach to attend Springfest is, Chris Love of Blacklist Customs. He debuted his digital camo Subaru WRX STI. This car I was absolutely in love with the entire weekend! Just about everything on the car Chris has built himself along with some help from his close friend Dominic. It was the best Subaru at the show! Outcast Garage and Blockstar Cars never disappointed in bringing out the best of the best that their crew must show to the public.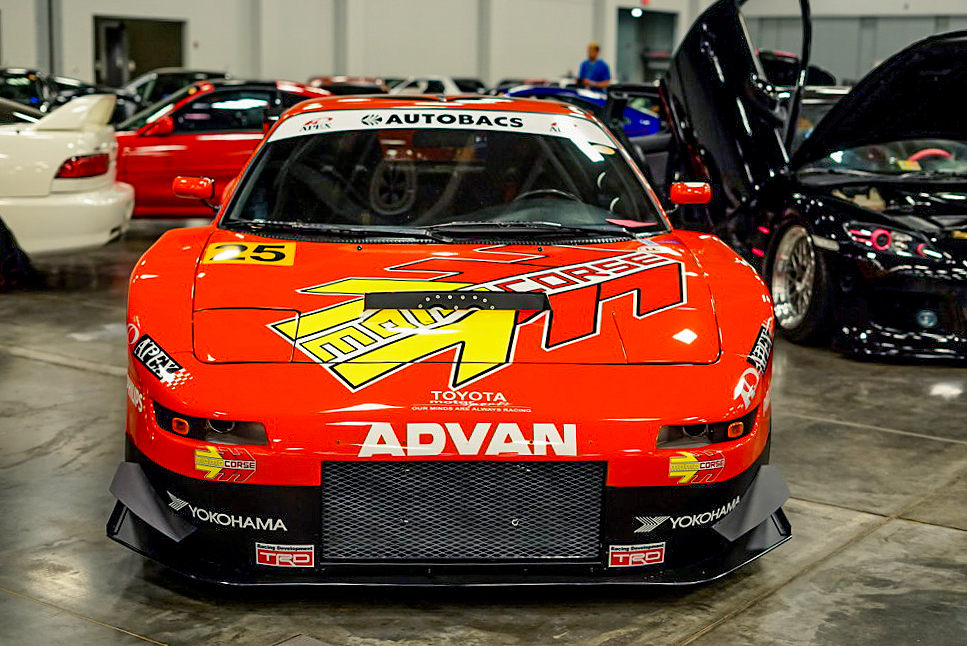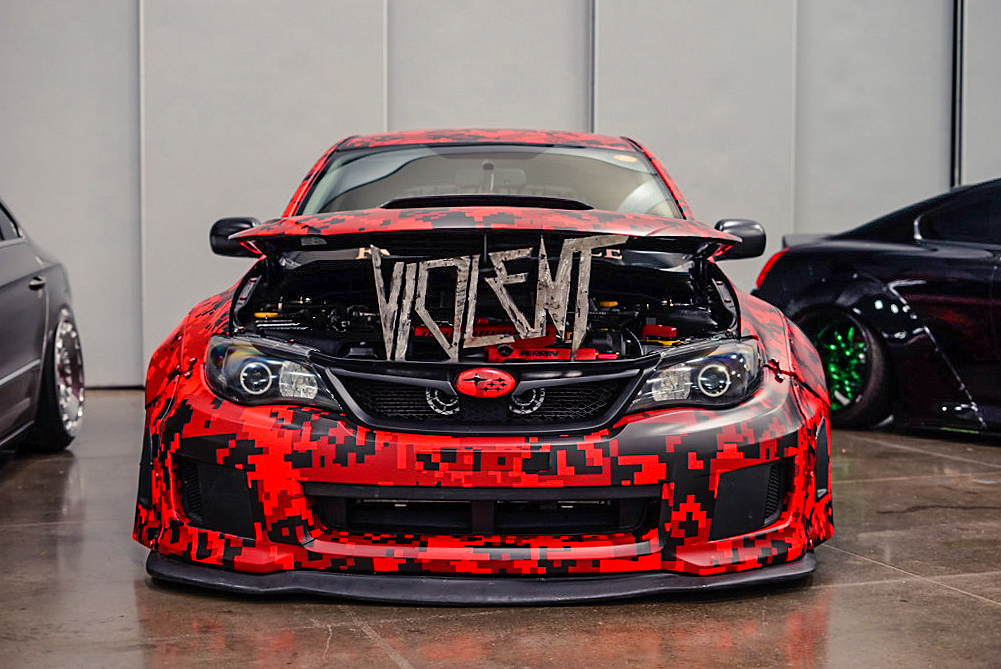 (Chris Love's Subaru WRX STI) 
Our friend Erik Diener is another Pennsylvania native that made the hefty trek south to Virginia Beach debut his beastly Acura Integra. I recognized the car from last year's Honda Day coverage here in North Carolina. The fact that I got to see it in person is astonishing! With a little break in the action from shooting early at the venue, I met with my friends and super-hot rising Import Models Abby Bakunas, Courtney Lynn Sciuto, and Jezsika Faith to do a little promo shoot for Slammedenuff. Thanks to our great friends Charlan Buenaventura and Cabe Baltimore for supplying the latest apparel tops for our shoot! We took it to the beach and shot underneath the pier. Hot as hell out that day but we made some excellent and super steamy work!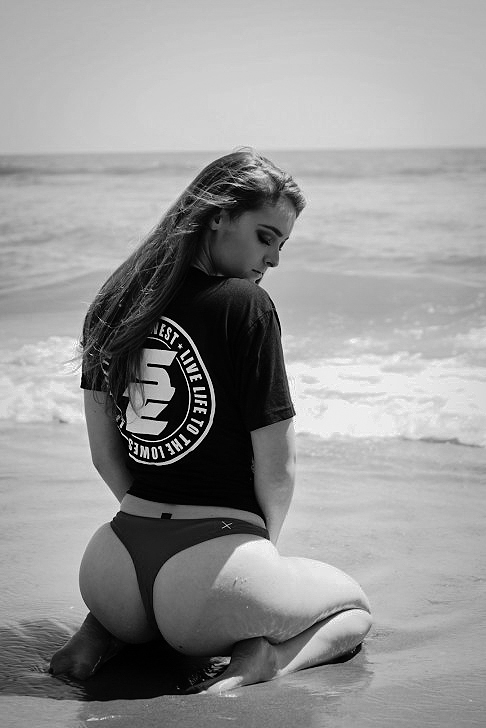 (Abby Bakunas)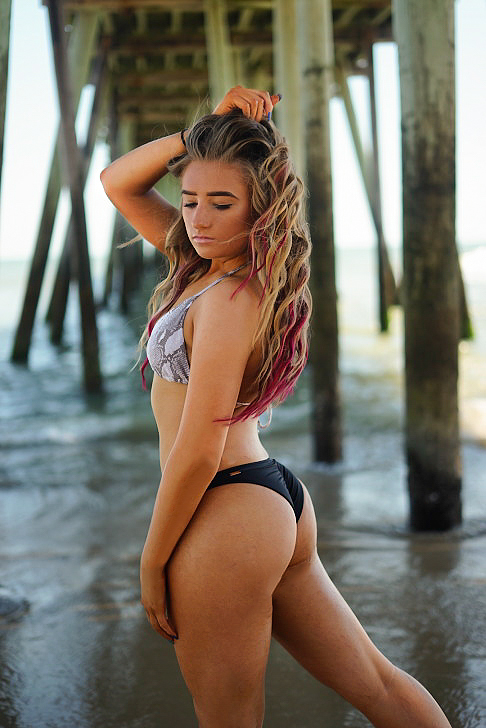 (Jezsika Faith)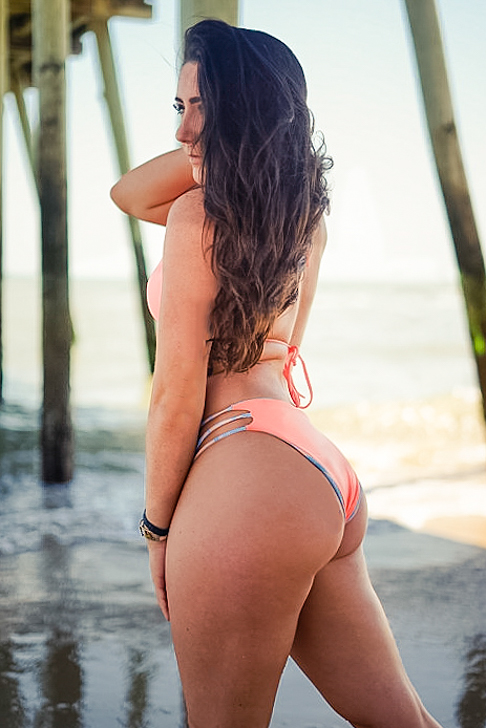 (Courtney Sciuto) 
When we arrived back at the event it was packed from the inside and out! It was really a beautiful thing to take in as families, car crews, and other automotive enthusiasts were filling up the Virginia Beach Convention Center. I returned to the Slammedenuff booth to put my things down and immediately started shooting. So many great vendors that were at the show. Crolls Customs, Fortune Auto, Tarmac Apparel, Stock or Modified Bodyworks, Alla Prima, Chadwick's Triple Play, Slammedenuff, Tuner Evolution, Sumospeed, even Canibeat made a return to Springfest! Super rad products and promotions from all the vendors. Abby and I did some shooting around with some great cars. We shot with Rodney Heath's (Royal Republic Crew Member) BNR32 GT-R, Lindsey Gantt's Rallybacker kitted Scion FR-S, and Jezsika Faith's one-of-a-kind RHD converted Acura RSX Type-S! Jezsika I also shot with as well. Both ladies did an amazing job of modeling the cars.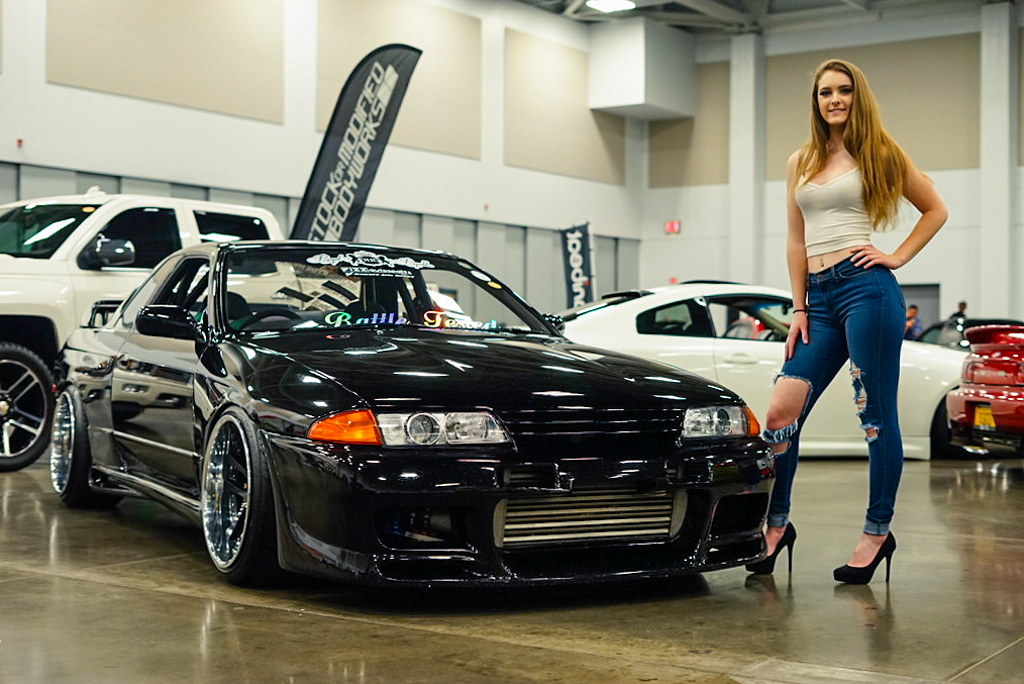 (Abby w/Rodney Heath's BNR32 Skyline GT-R)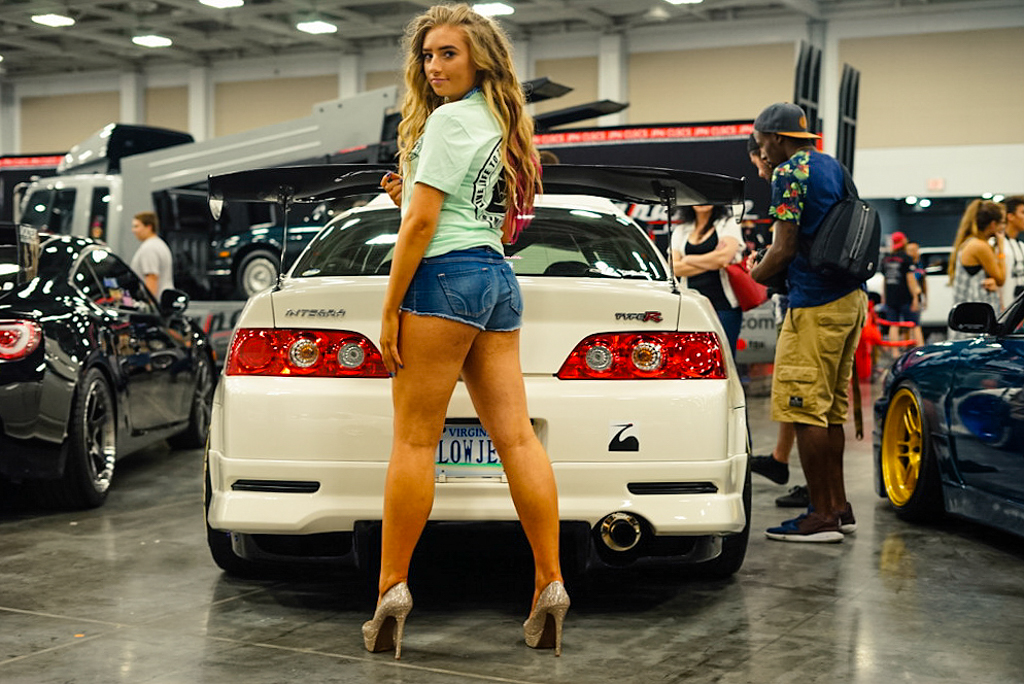 (Jezsika w/ her RHD Acura RSX Type-R) 
Springfest feels like a large family reunion every year. Friends from different states get together, families are on vacation and have the option to attend the show, and car crews that have members live in different states come together as well. Congratulations to the all of the winners that were awarded trophies. A special shoutout to Jezsika Faith for winning Top Pick and winning first place for Best Integra/RSX. A very special thank you to our good friend Nick Gressley and to the rest of Sumospeed for putting on a fantastic show! Enjoy the photos from Springfest 2017!
Models:
https://www.instagram.com/itsabbybrooo/
https://www.instagram.com/jezsikaafaith/
https://www.instagram.com/shotsfireed/