TEKNO has finally thrown open the doors of its new sprawling 4500 square metre Yatala mega-workshop in an automotive extravaganza that dominated the entire neighbourhood for a day. I wasn't sure how many people would be there; as the RSVP list for the Facebook event only showed a few hundred prospective participants.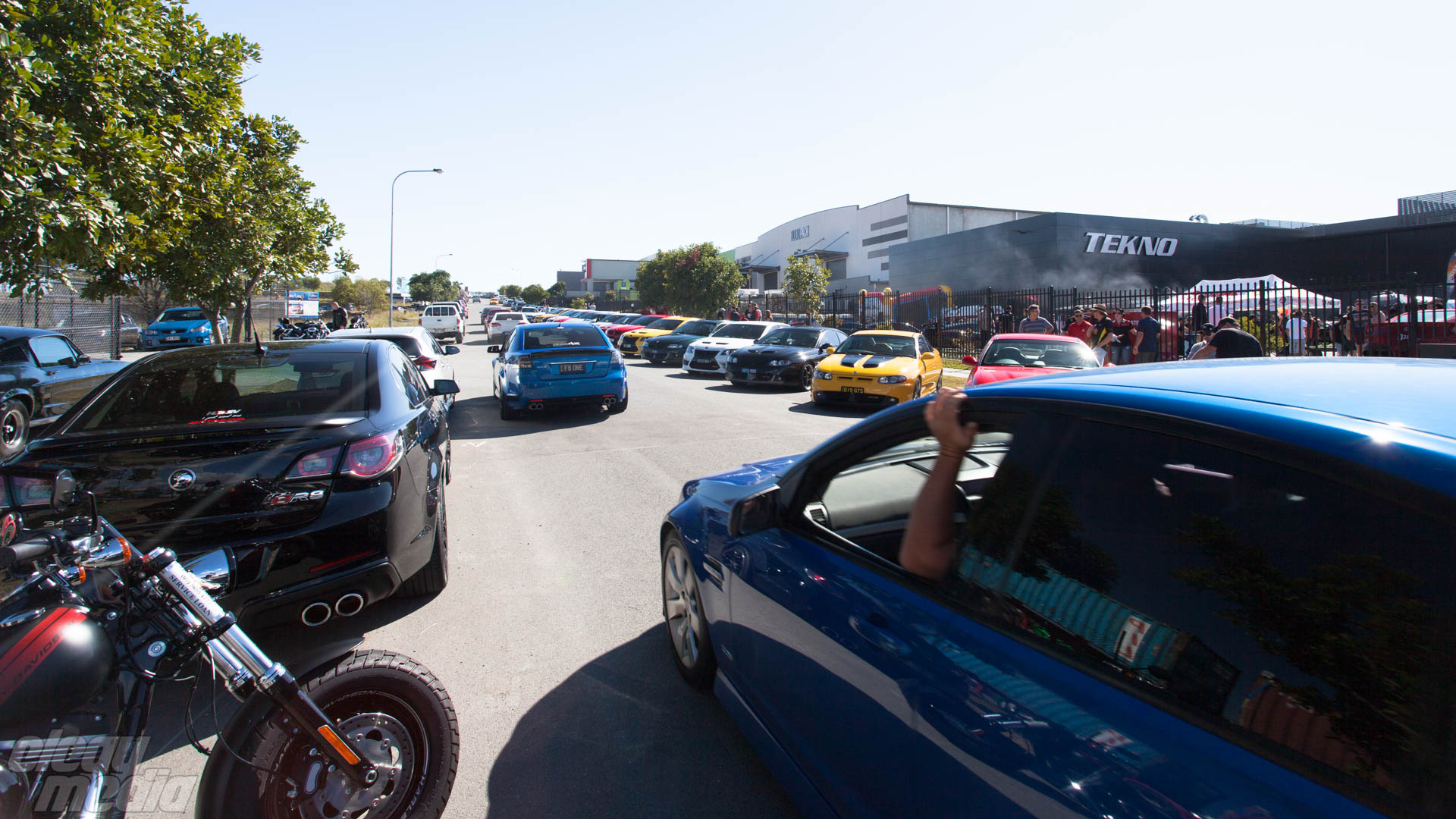 I had my reservations after glancing at that figure, but how wrong I was. 2500 people had arrived en masse, ready to soak up the winter sun and experience what TEKNO had to offer.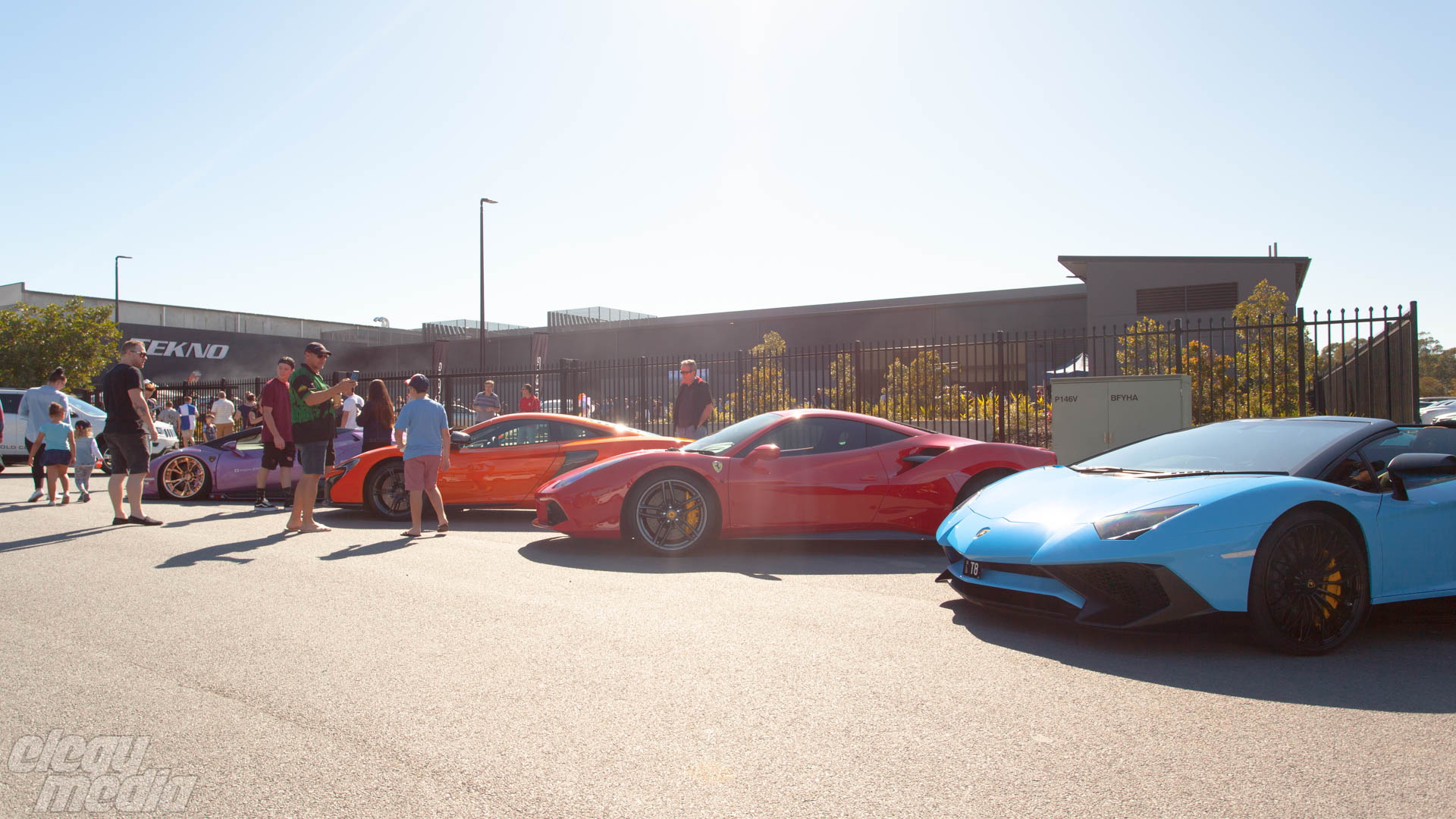 I arrived early to get in and shoot the complex before the event was slated to start, and was immediately confronted with a street full of cars. The usually-sleepy Dixon St had been transformed into an impromptu car show with participants from all walks of life. Commodores rubbed shoulders with Lamborghinis as the crowd milled around them to take photos.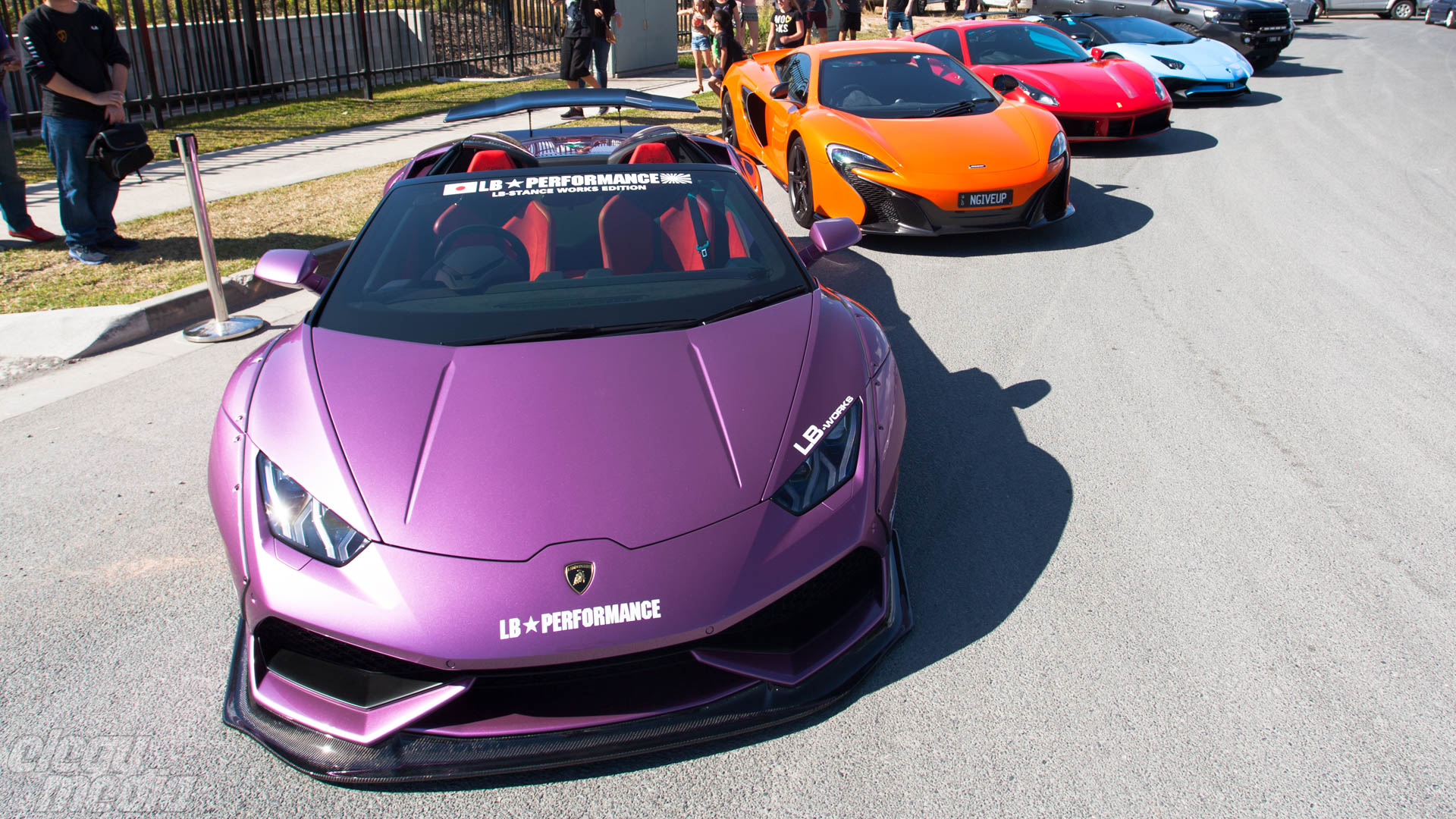 Flashing my non-existent AAA pass, I charmed my way through the front gate, attracting the curious gazes of those onlookers I'd left behind. TEKNO had clearly been busy this weekend, an amazing arrangement of super and hypercars from various marques were set up; along with the tantalising smells of food stalls and gigantic LED screen that I'd heard so much about.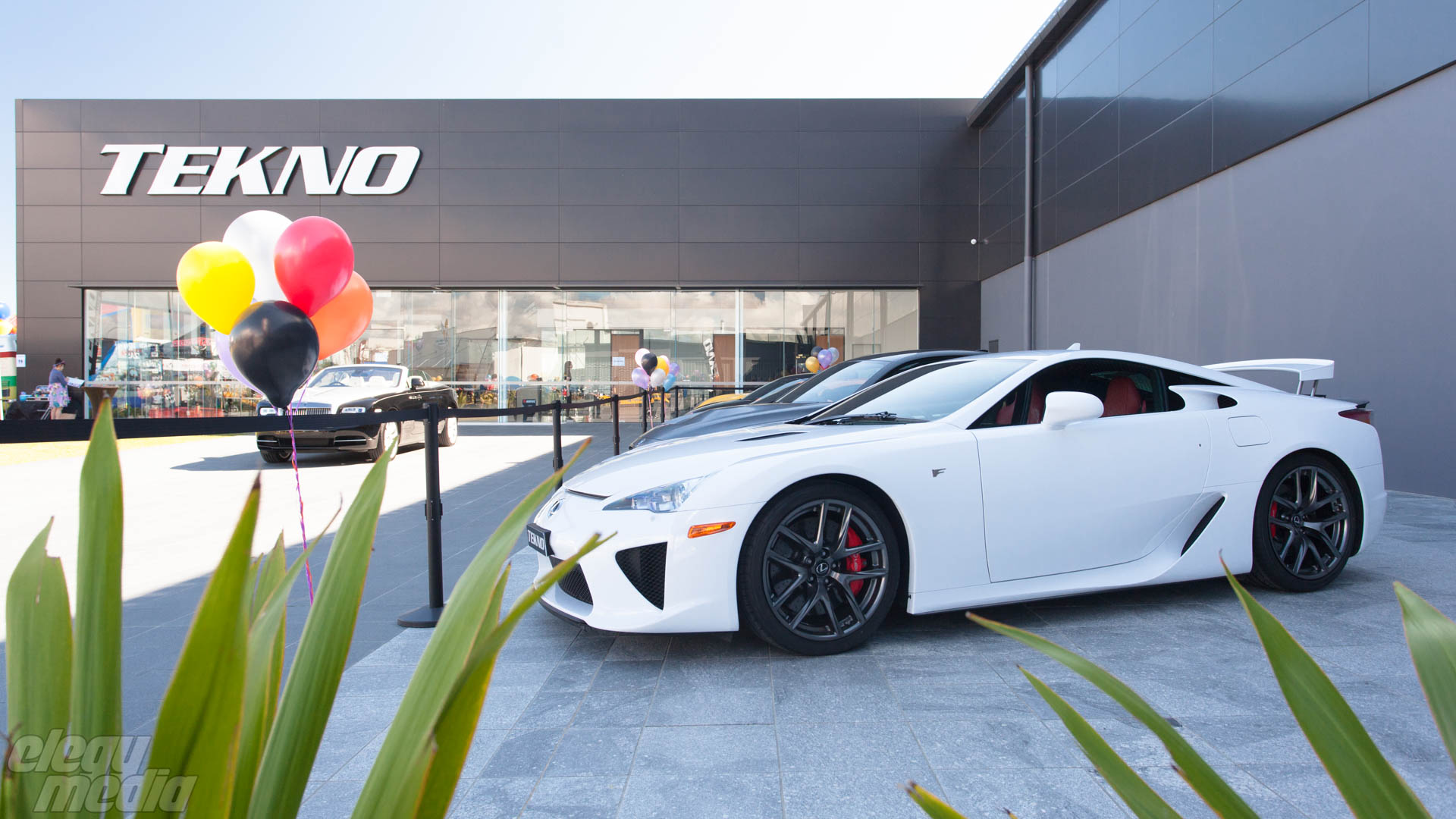 TEKNO staff buzzed around putting the finishing touches on the displays and triple checking everything to ensure the launch went smoothly.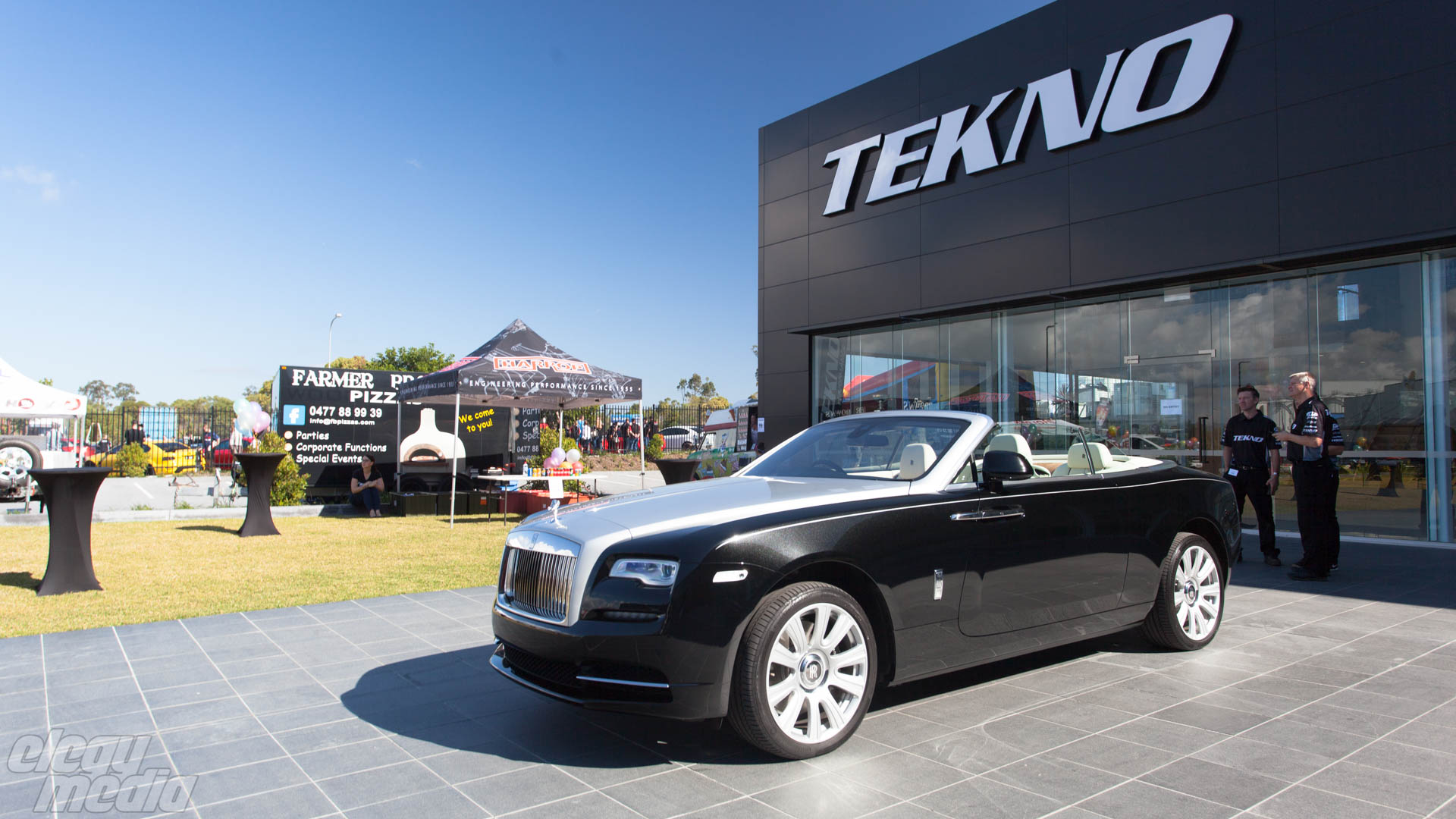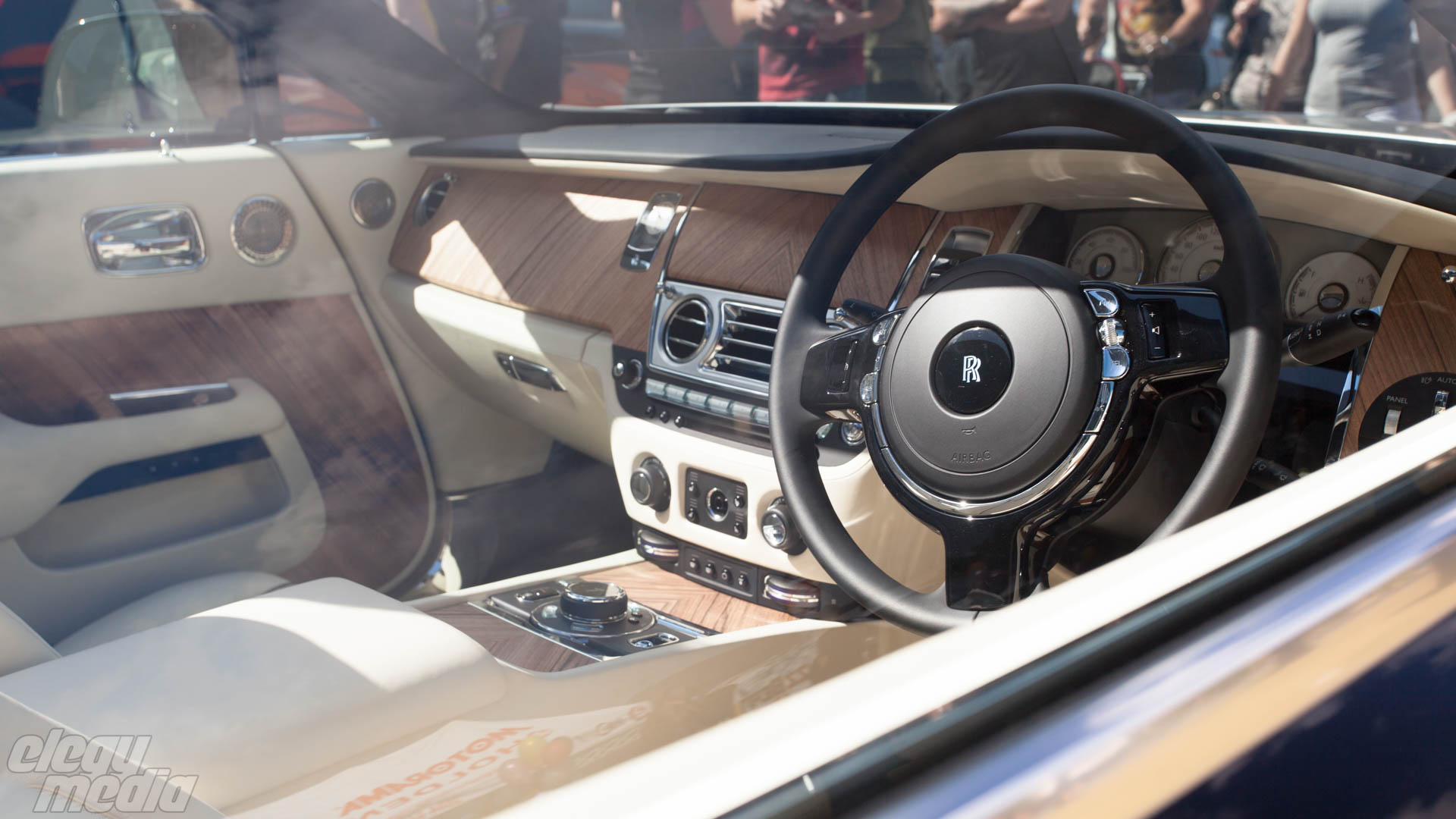 Behind a retractable barrier sat a row of glorious exotics, notably including a Lexus LFA and Audi R8. A drop-top Rolls Royce Phantom sat unguarded in the middle of a thoroughfare, which I found odd considering the staggering price-tag – but this gave everyone the opportunity to experience the majesty of a Roller up close!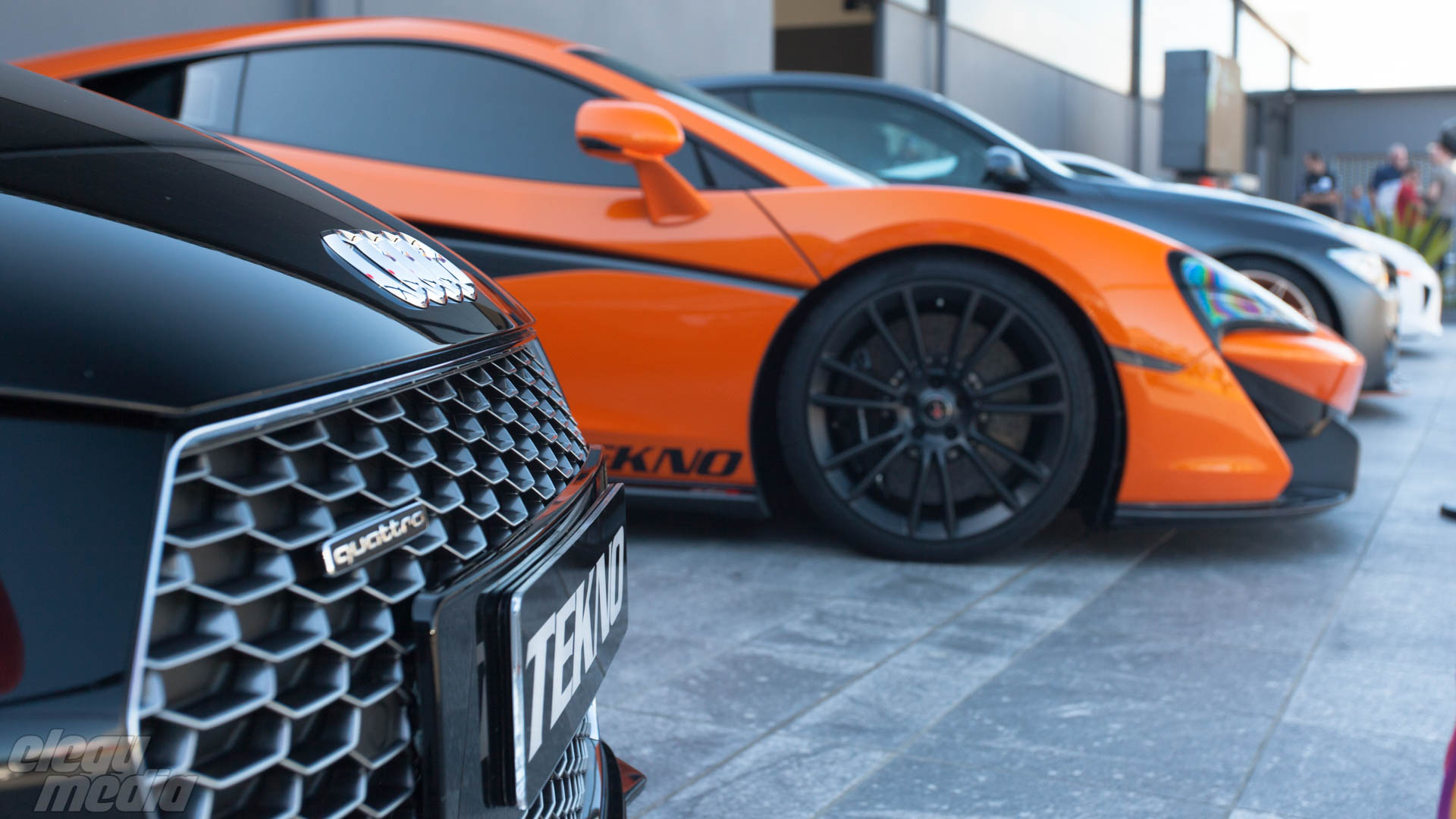 Lexus' new LC500 was also set up with its entry-level companion under its own banner across the yard from the older LFA as if to prevent any jealousy between the three. BMW had presented its gorgeous i8 alongside the very same KTM X-BOW R that I had the opportunity to review earlier this year.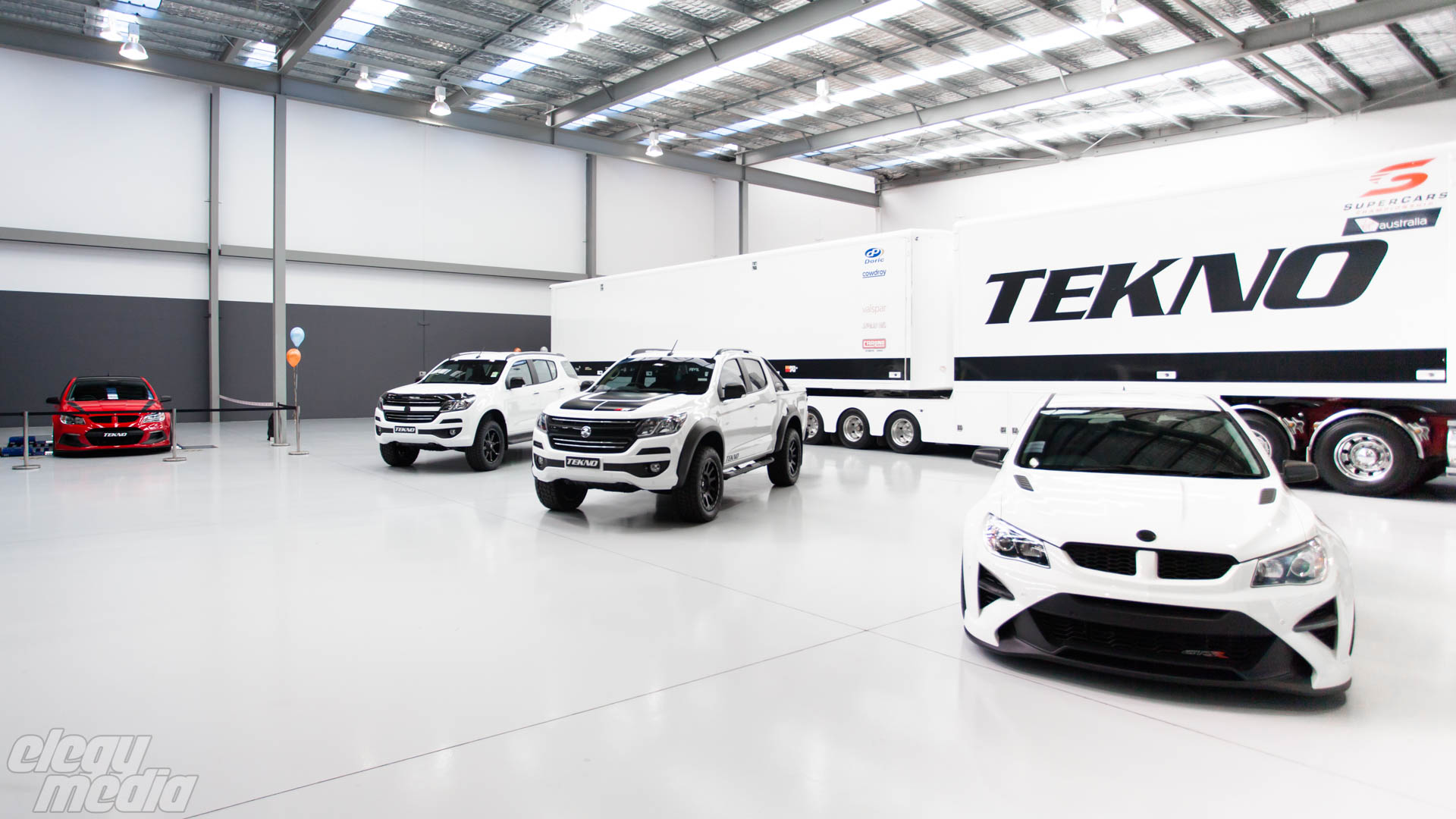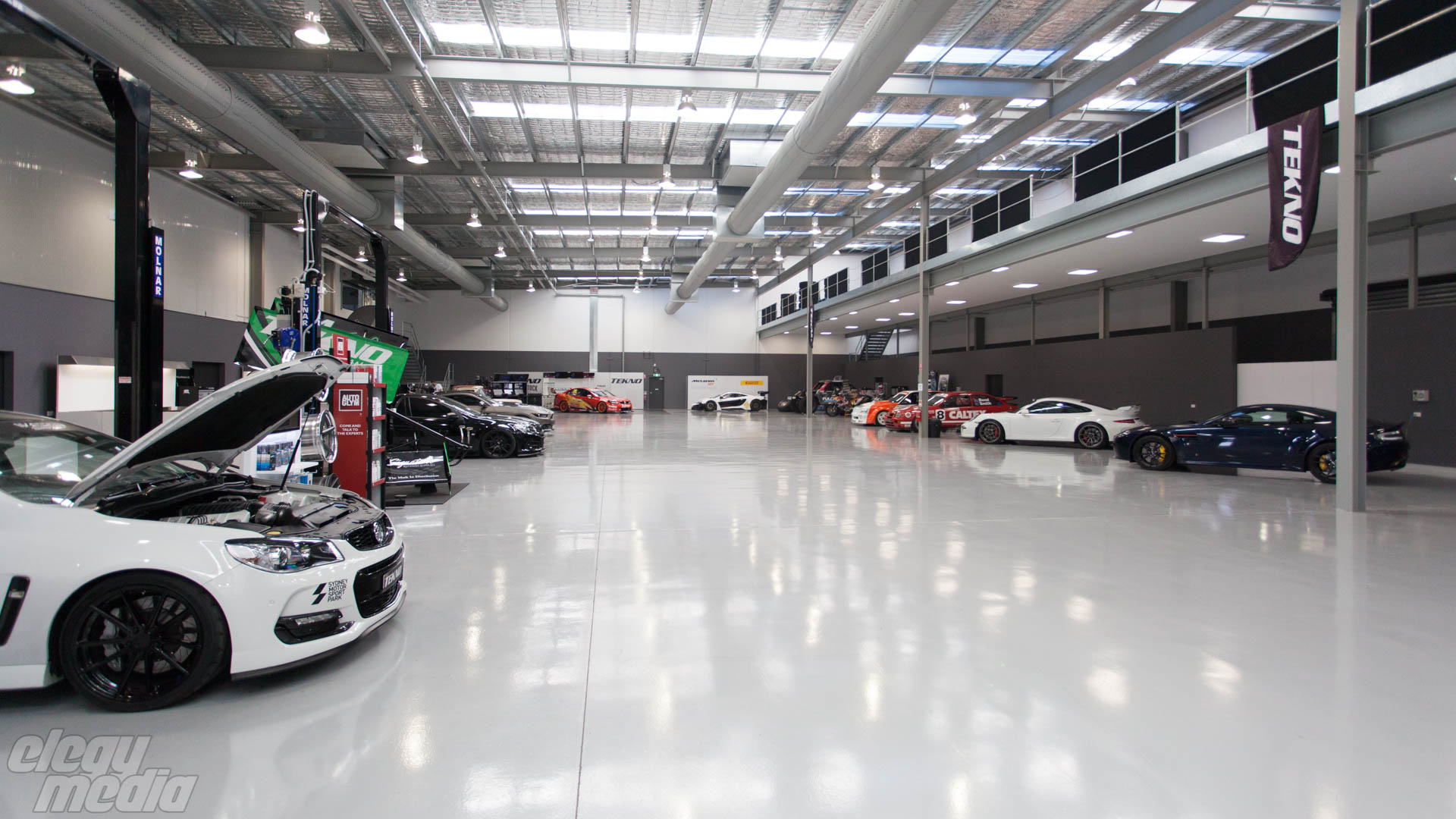 Inside was no less impressive than out, with incredible displays from Akrapovic and HRE alongside more supercars and yet-more powerful domestic street cars.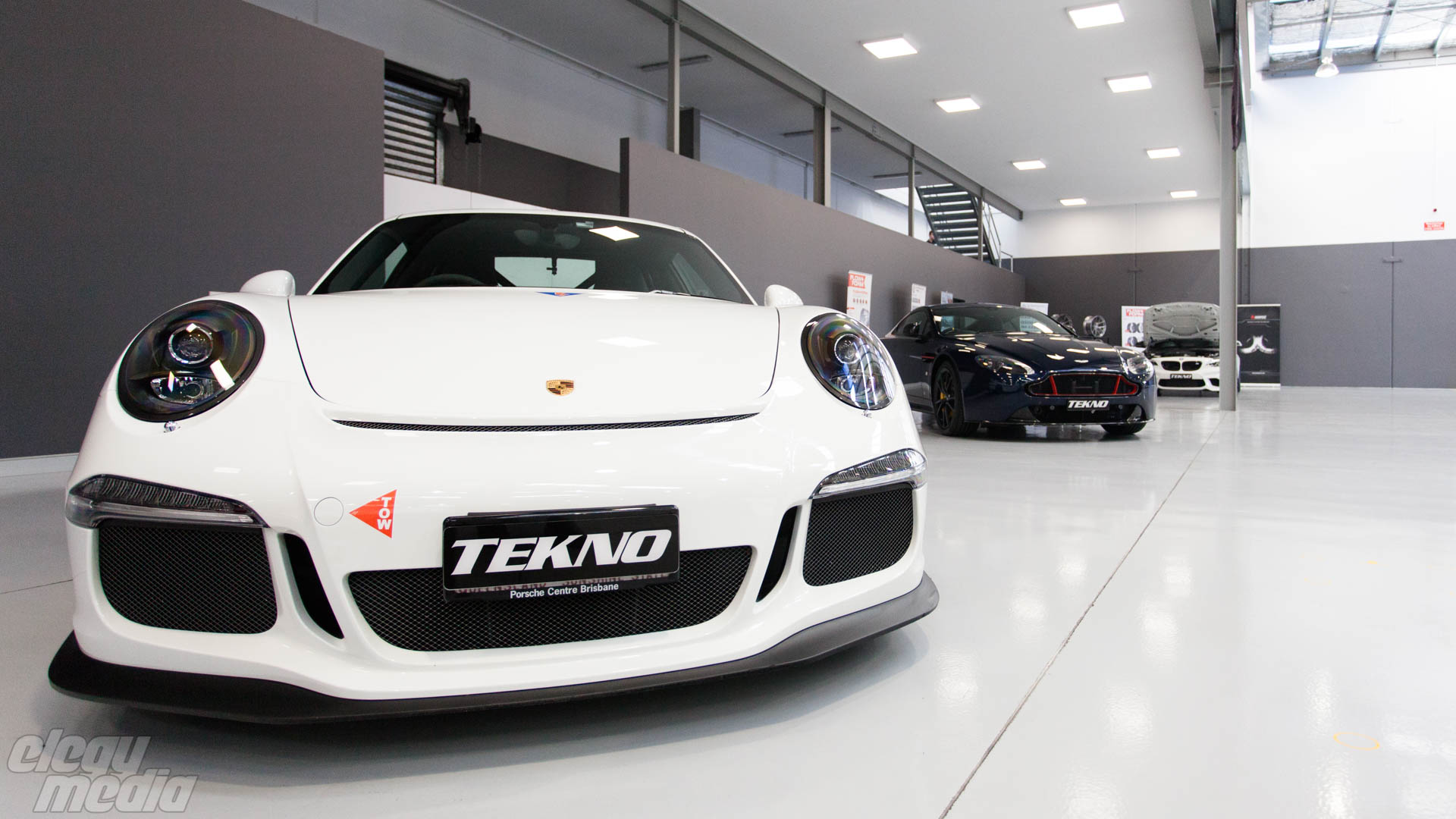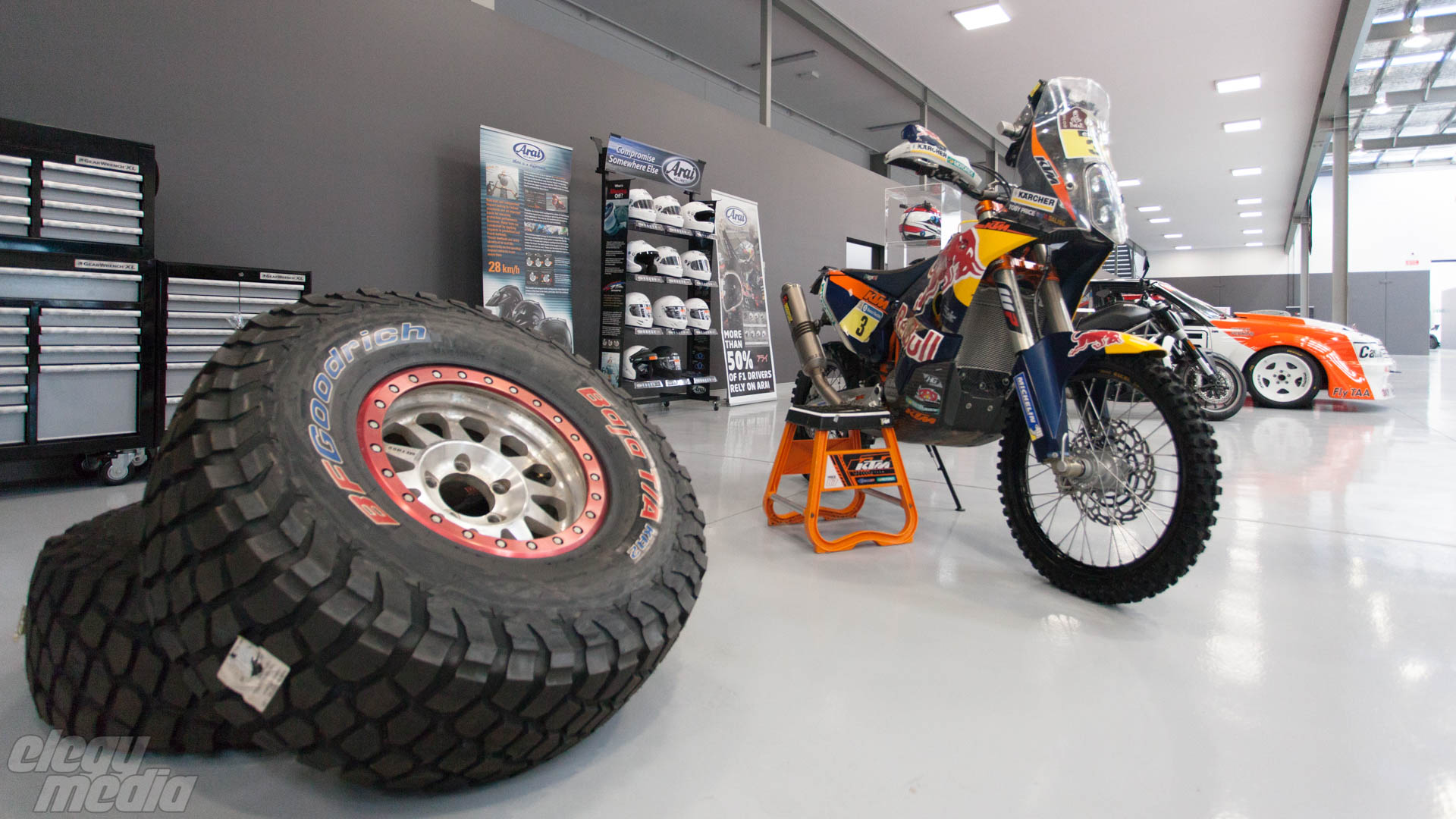 Toby Price was also present with his Dakar-bred trophy truck and motorcycle. Despite Toby's leg being relegated to using crutches, he was still on board ready for the ensuing meet-and-greet – what an absolute trooper!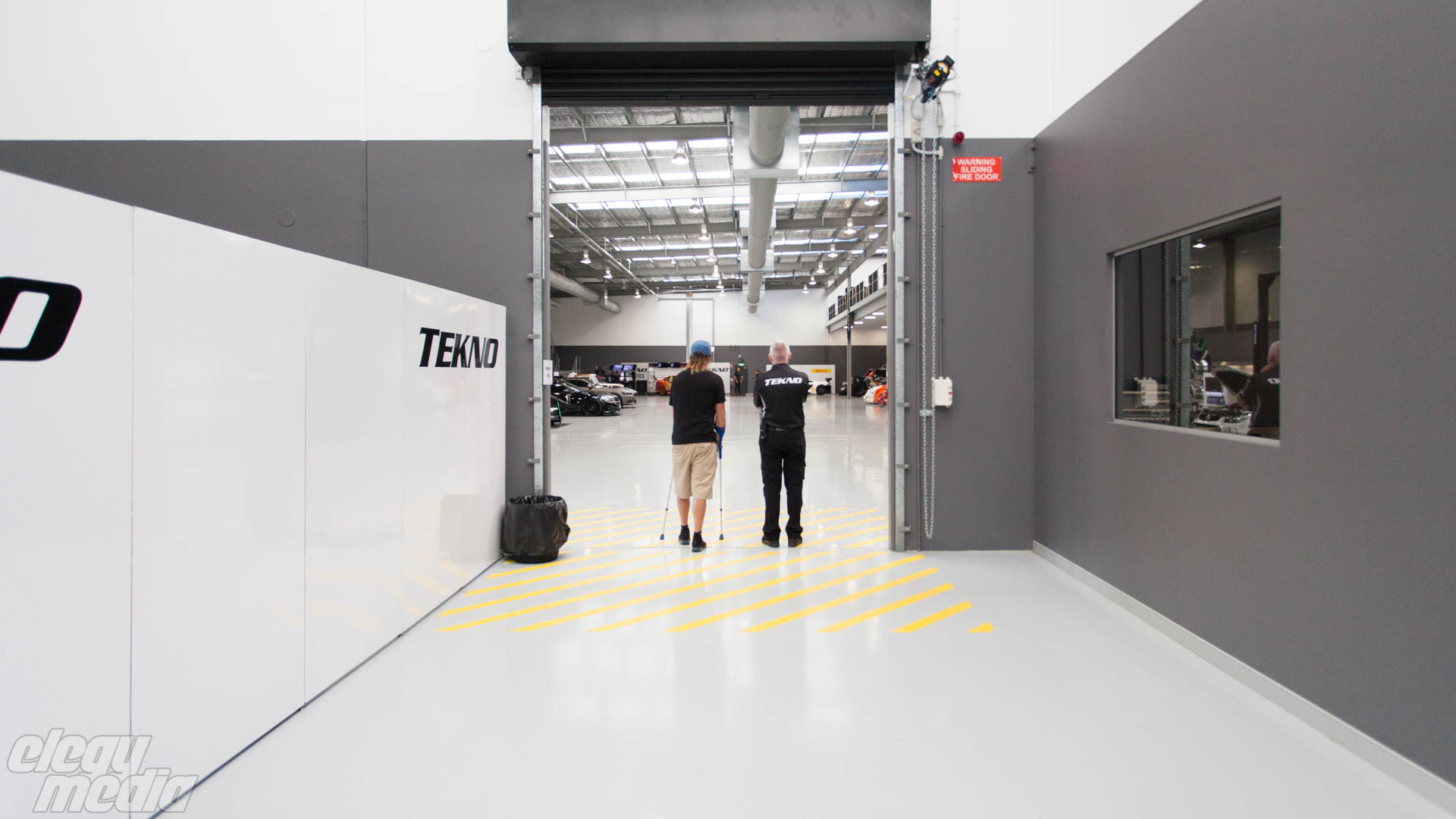 Toward the northern end of the workshop lay the yet-to-be-unveiled Lightning McQueen V8 Supercar, which was sure to make the day/week/year of every young automotive enthusiast!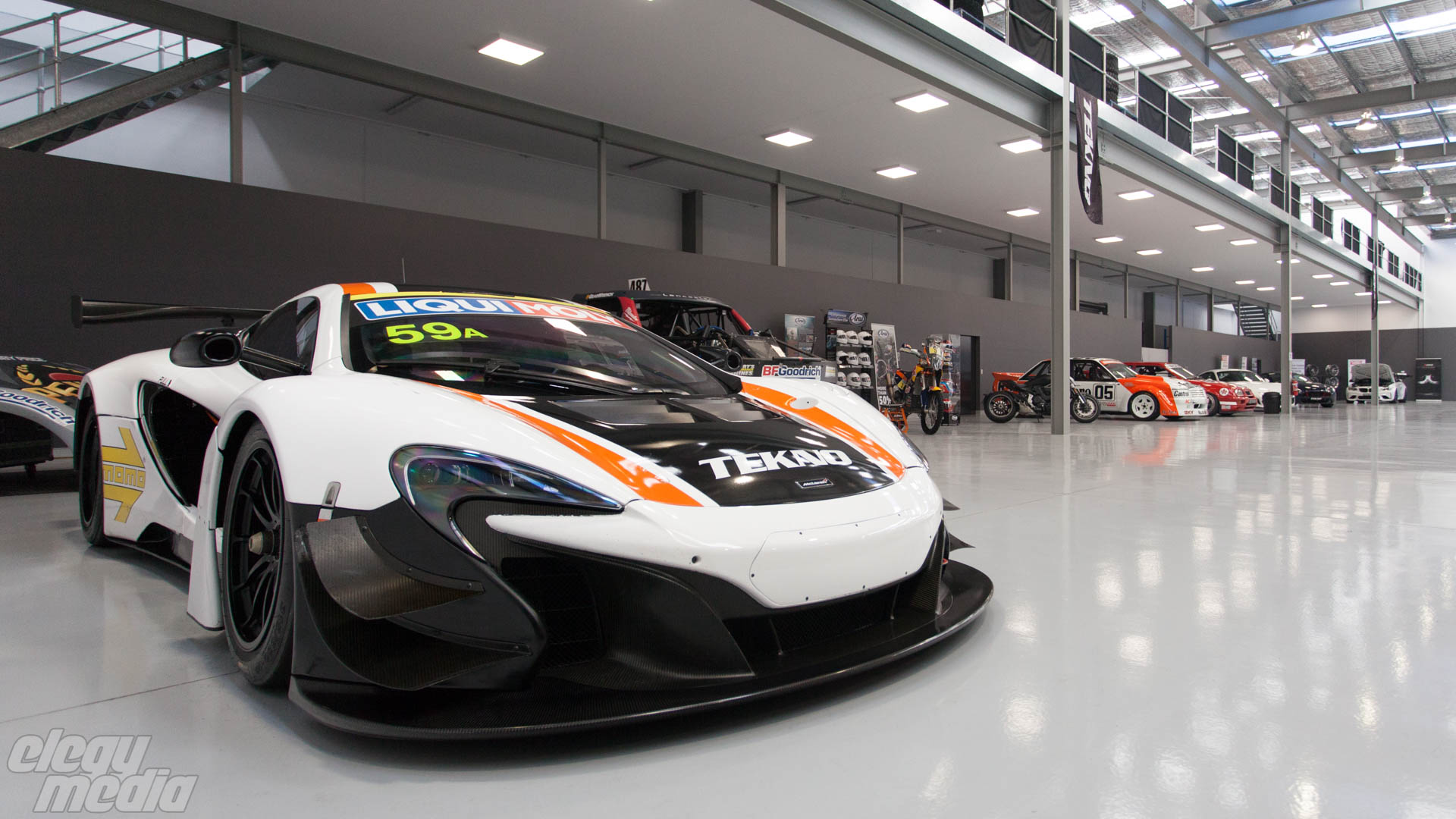 Then of course there was this double-hit of nostalgia –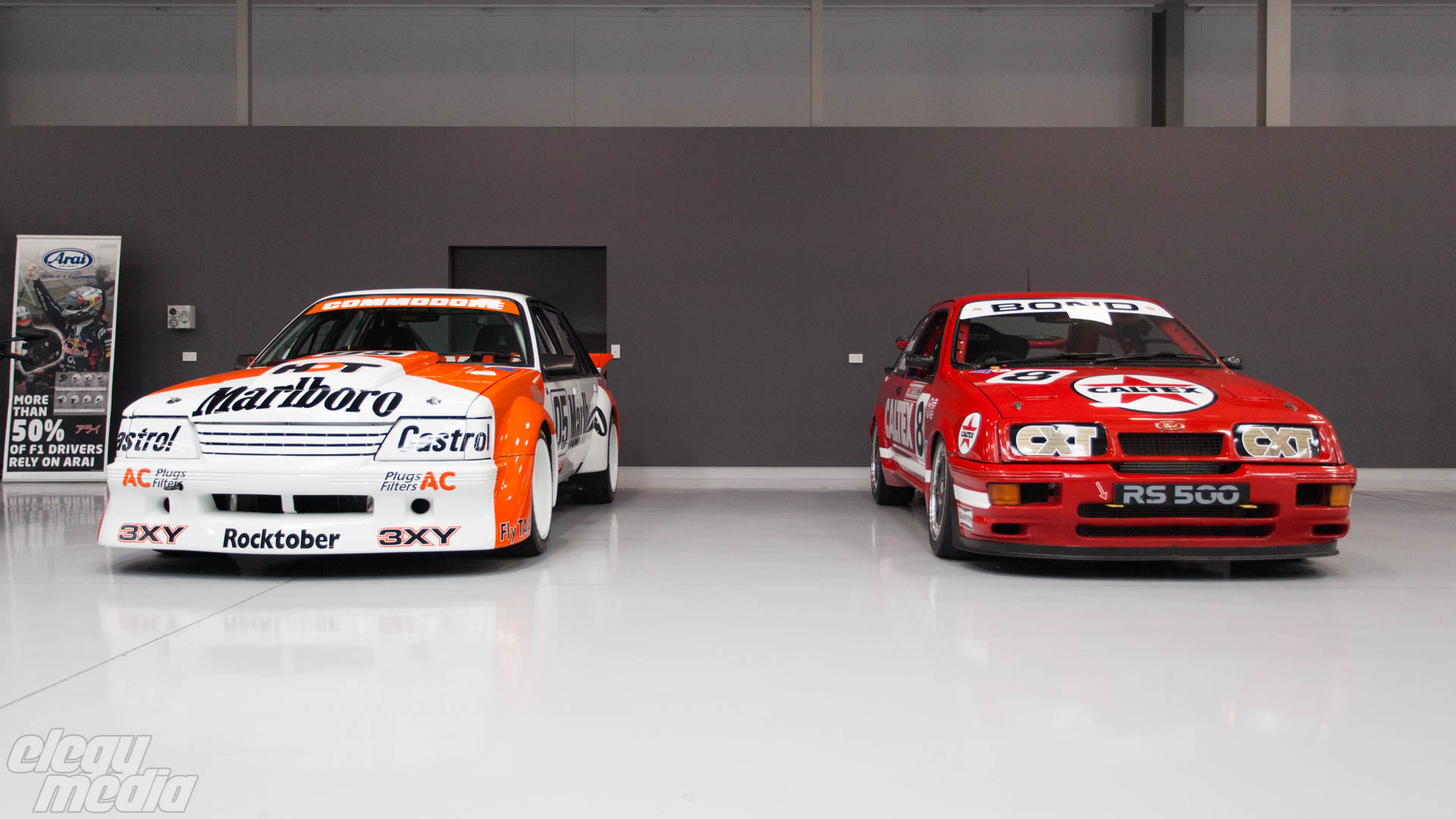 Venturing to the southern end of the complex, a full go-kart display was arranged with some seriously high-hp karts that would put the X-Bow outside to shame.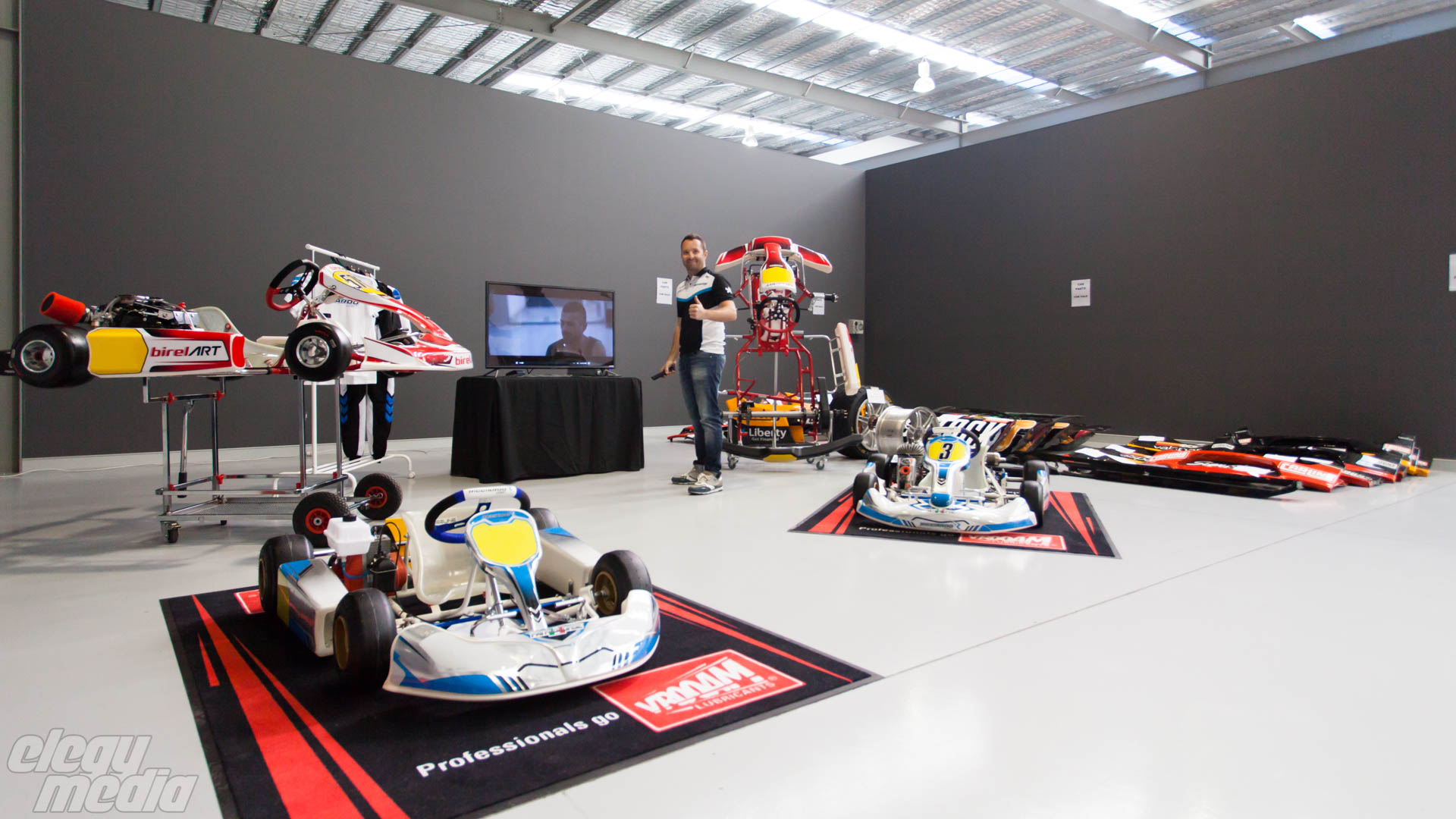 Alongside these little rockets was row-upon-row of genuine race-used body panels (including boot lids) that had reached the end of their lifespan.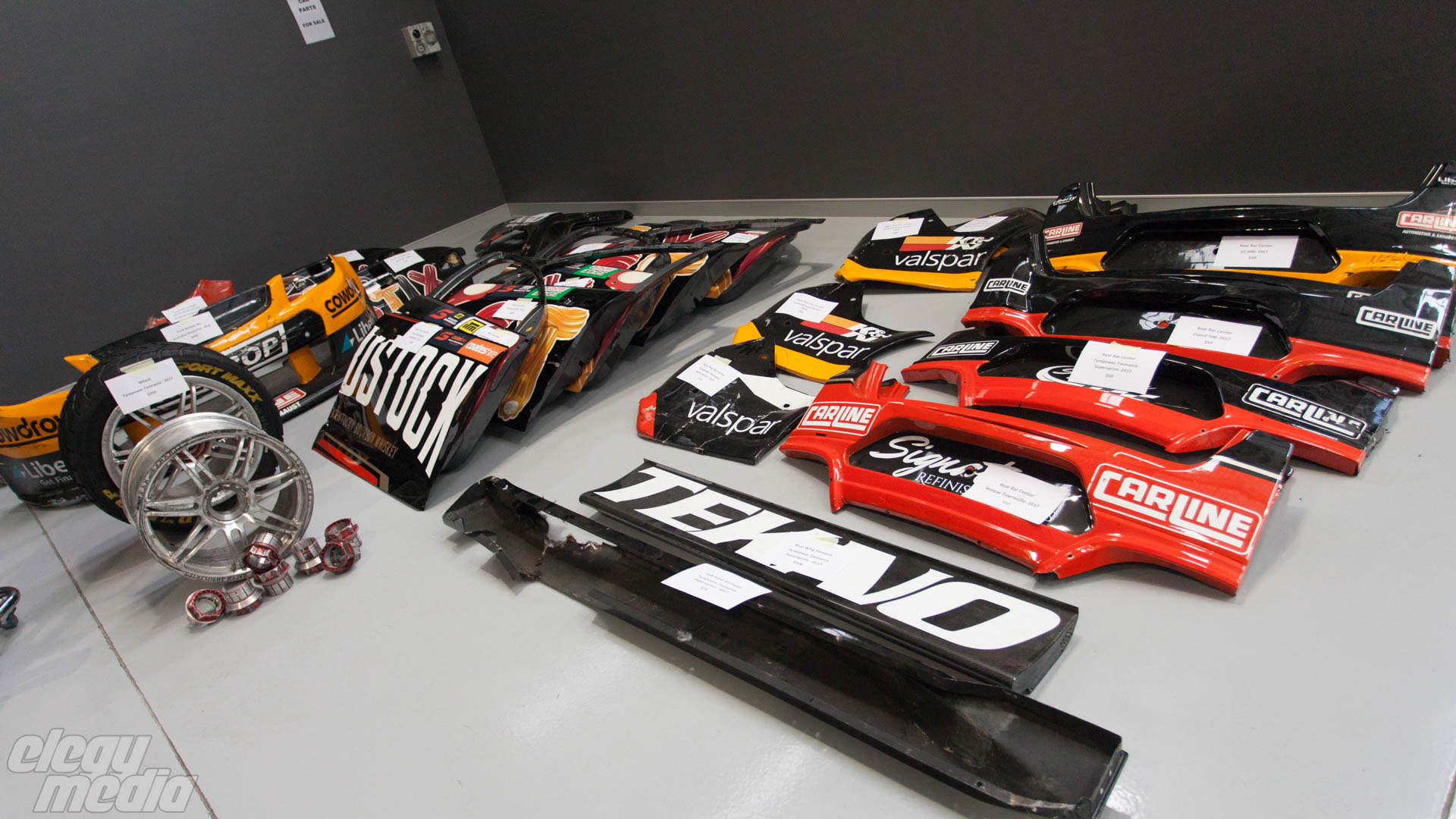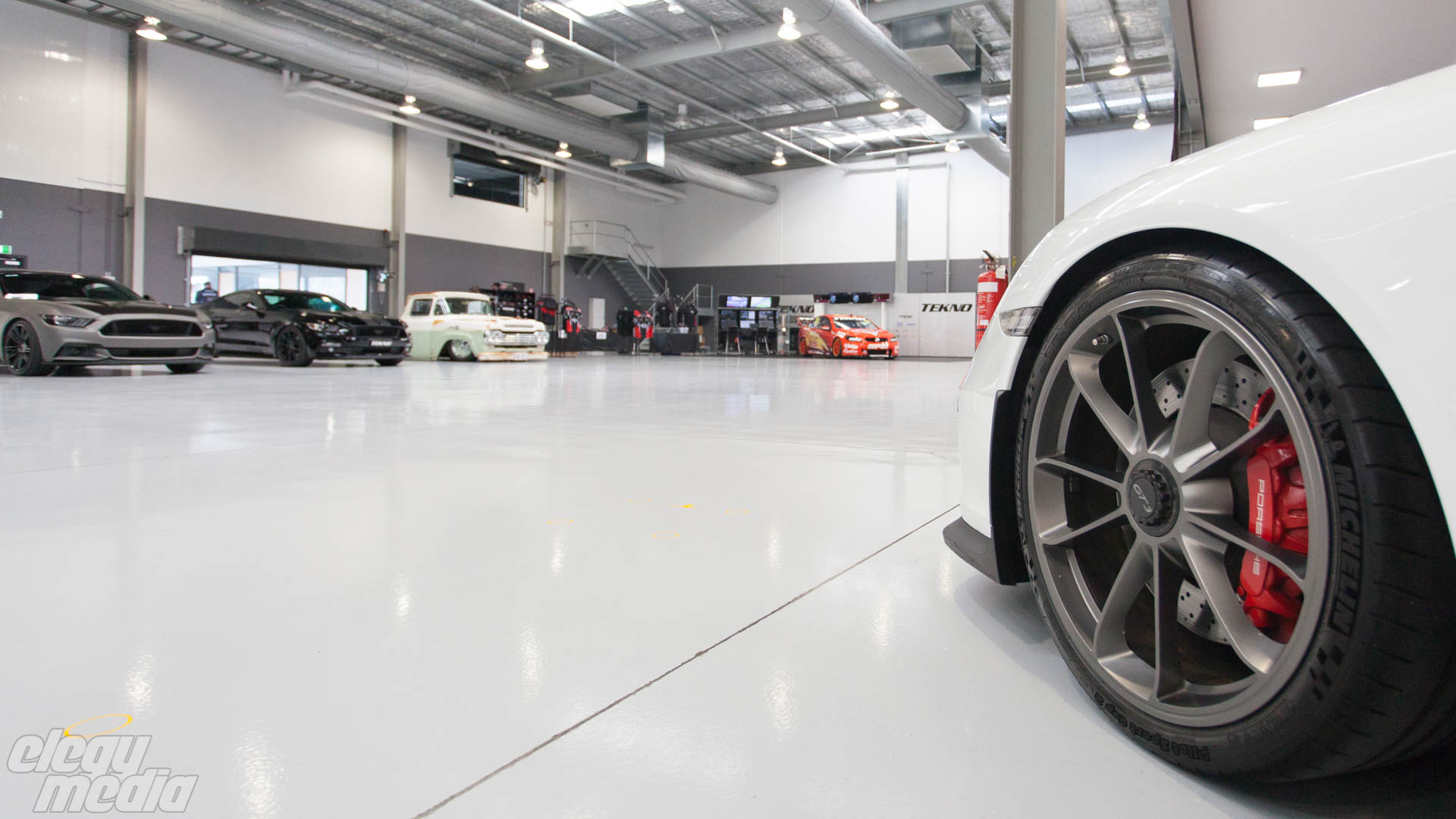 The clock struck 10 and the gates opened; thousands poured in, gravitating toward the cars and food stalls that had been teasing the fenced out masses for what must have felt like hours. A straggling Ferrari F12 Berlinetta battled its way inside, attempting to park while dodging fans.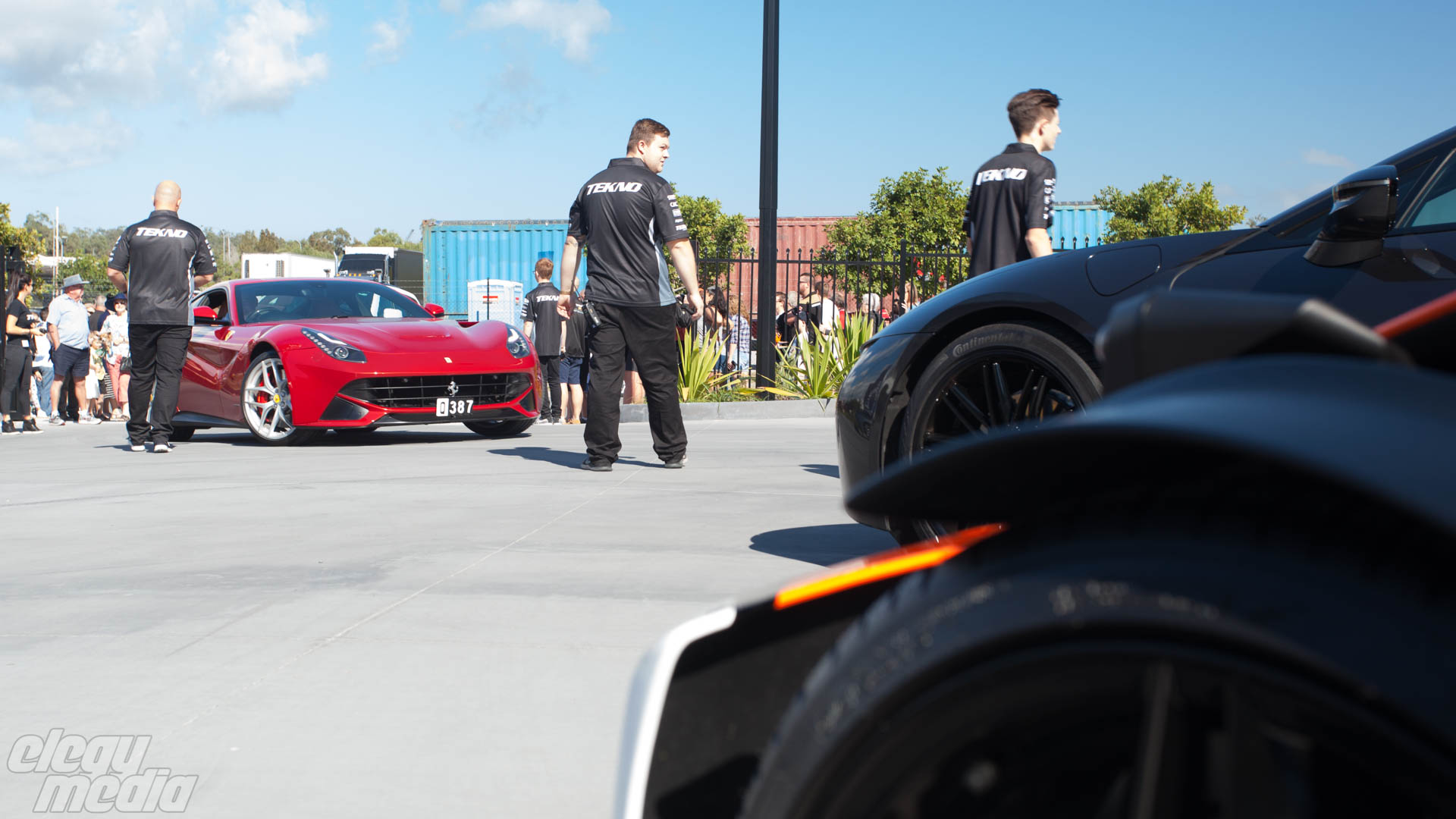 After watching the crowd descend upon the complex, I made my way inside and up to get a view from the mezzanine. Suddenly all the space between the cars and stalls that I'd noticed earlier made a lot more sense now that those gaps were choc-a-block full of people.
Unsurprisingly, one dedicated super-fan had purchased a bootlid and was carrying it around through the packed workshop – respect!
The throng of people were ushered back out to the forecourt for the commencement speeches from Gold Coast Mayor Tom Tate and TEKNO boss Jonathon Webb; along with Toby Price joining them to thank the crowd for their support.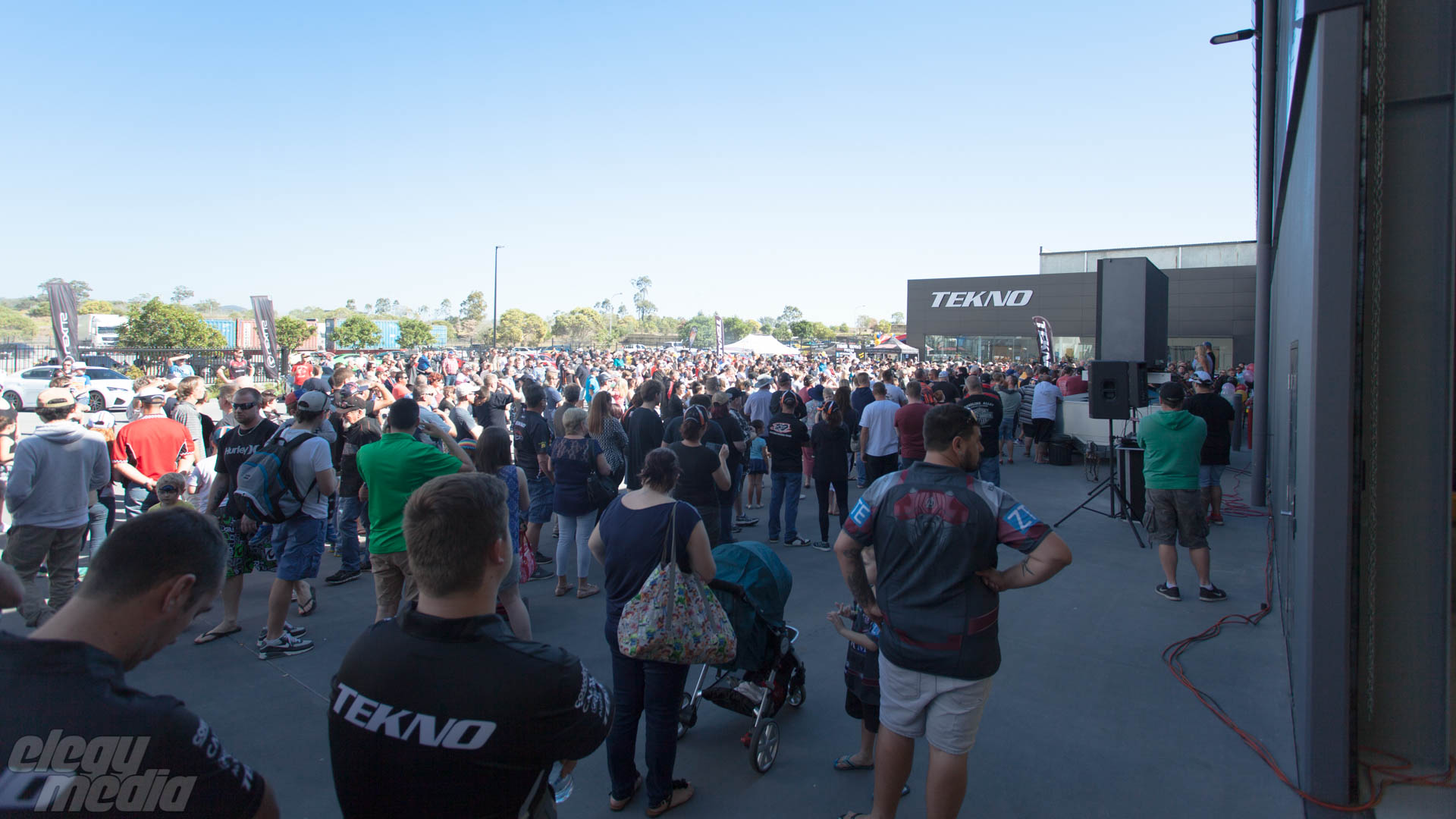 I snuck my way to the front for the ribbon cutting; all these months of hard work and dedication from TEKNO had boiled down to this moment and I am so glad I was able to take part in it. I was first involved with V8 Supercars many years ago as a CAMS Junior Official volunteer so it was fantastic to see the fruits of a team's labour finally being shown to the world.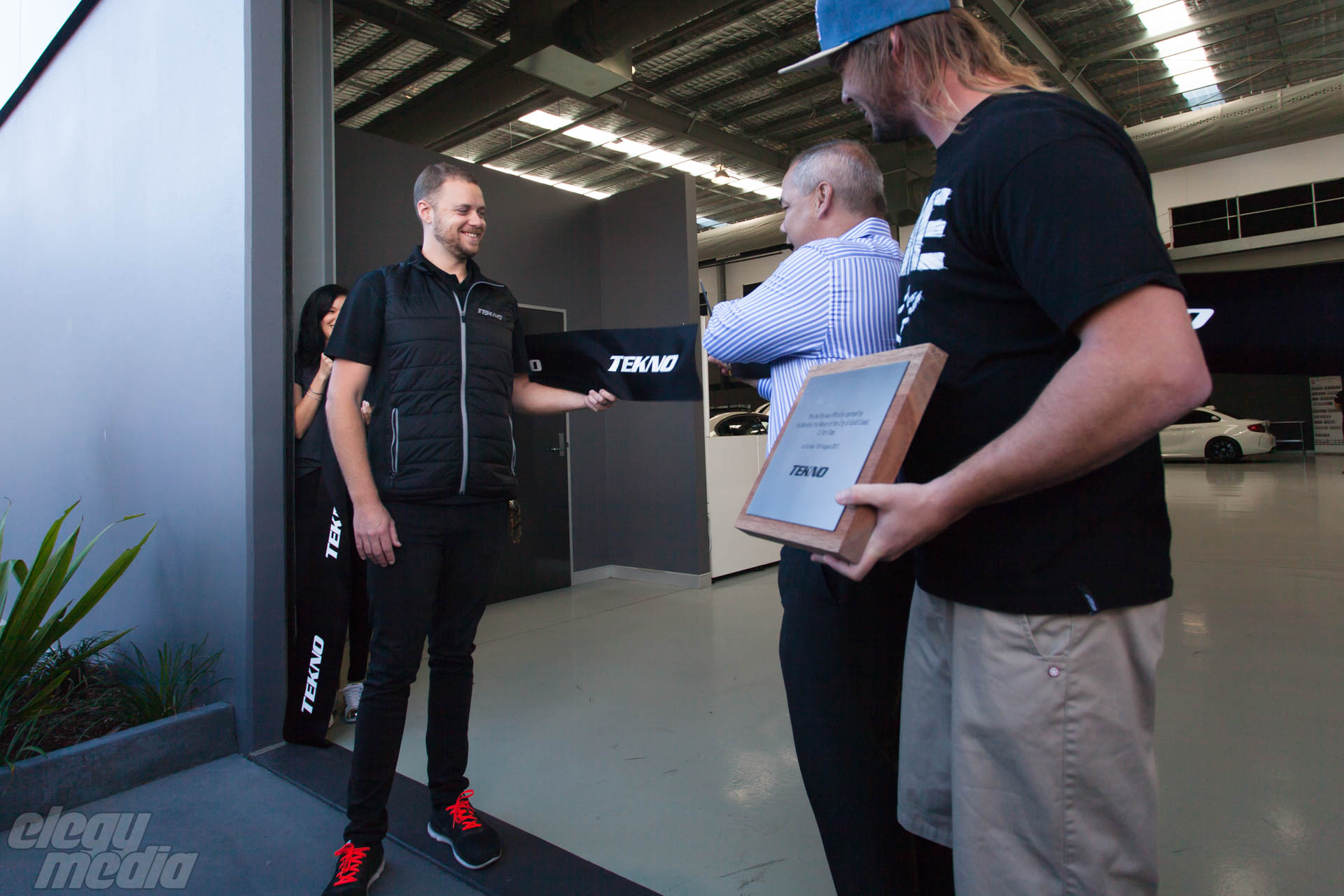 The cheering crowd once again rushed into the building, with many staying to chat for photos with Webb, Tate and Price – all of which were genuinely happy to pose for photos with their beloved fans.
One thing car enthusiasts in Australia are constantly under fire for is alleged anti-social behaviour, or 'hooning'. What I saw at TEKNO Grand Opening was an inclusive, family-friendly celebration of mainstream car culture as a whole; with no hint of misbehaviour commonly alleged by Tracy Grimshaw and her ilk.
Kudos TEKNO for the great day out – here's a few more snaps that I just had to share with you: