SEMA!! What a glorious life we live in getting to see some of the most intricate and unique builds before our very eyes. Custom fabricated parts, seen one-off parts, and some of the car's character here are displaying the "Built not bought" persona. But don't let me bore you, let's skip the prayer and dive into eating up what I have cooked up!
Toyo Tires Tredpass Rundown:
The Toyo Tires Treadpass booth never disappoints with the cars they debut as well as the new tire product froma Toyo. Speaking of the cars debuting there were tons! Sleeper Speed Shop brought their Porsche 997TT. The 997TT body was kitted with a GT3R motorsport body that V.A.D Designs (Based out of the United Kingdom) put on the car. Super wide, but looked magnificent.
Bulletproof Automotive debuted their new Varis kitted widebody Mitsubishi Lancer Evolution X. The 4B11 built is capable of 800hp, but if that isn't surprising enough the one-off brake conversion on this car is the Overtake Nissan GT-R R35 carbon ceramic brake retrofit. The interior was custom designed Alacantara interior. The last debut on this car is the center lock HL-06S Hyperlock Wheels conversion package set debut. Gorgeous forged wheels that were fitted with Toyo Proxes R888r's. I feel that this was the most sleeper Evolution X at the show as it had many details to offer.
There were two Porsche's built and the help came from Rod at Emory Motorsports, Pat, Magnus Walker, and tons more of support and help. With only having roughly 7-8 months to finish the 1963 Porsche 356 and the 1968 Porsche 912 for SEMA they were completed just in time and the results are astonishing and mesmerizing. I met the legend himself that takes care of all of the Rocket Bunny and Pandem kits, Kei Mura. He brought his Datsun Sunny truck to SEMA to debut. Its a SR20DE powered pickup that's slammed to the floor. Tucked and shaved bay! Simple yet clean! Let's check a couple of my favorite spotlight builds a little more in depth.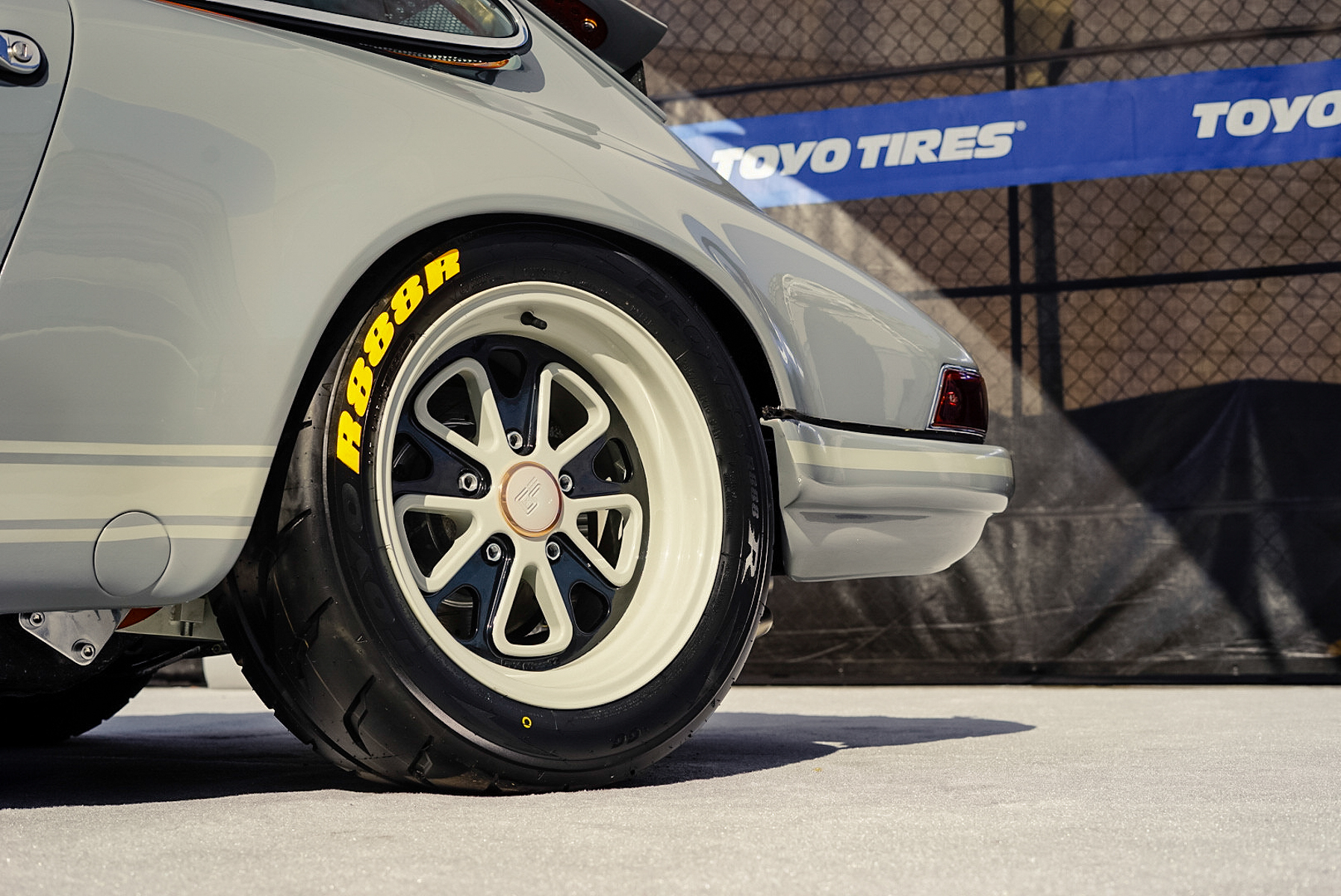 (1968 Porsche 912 Outlaw)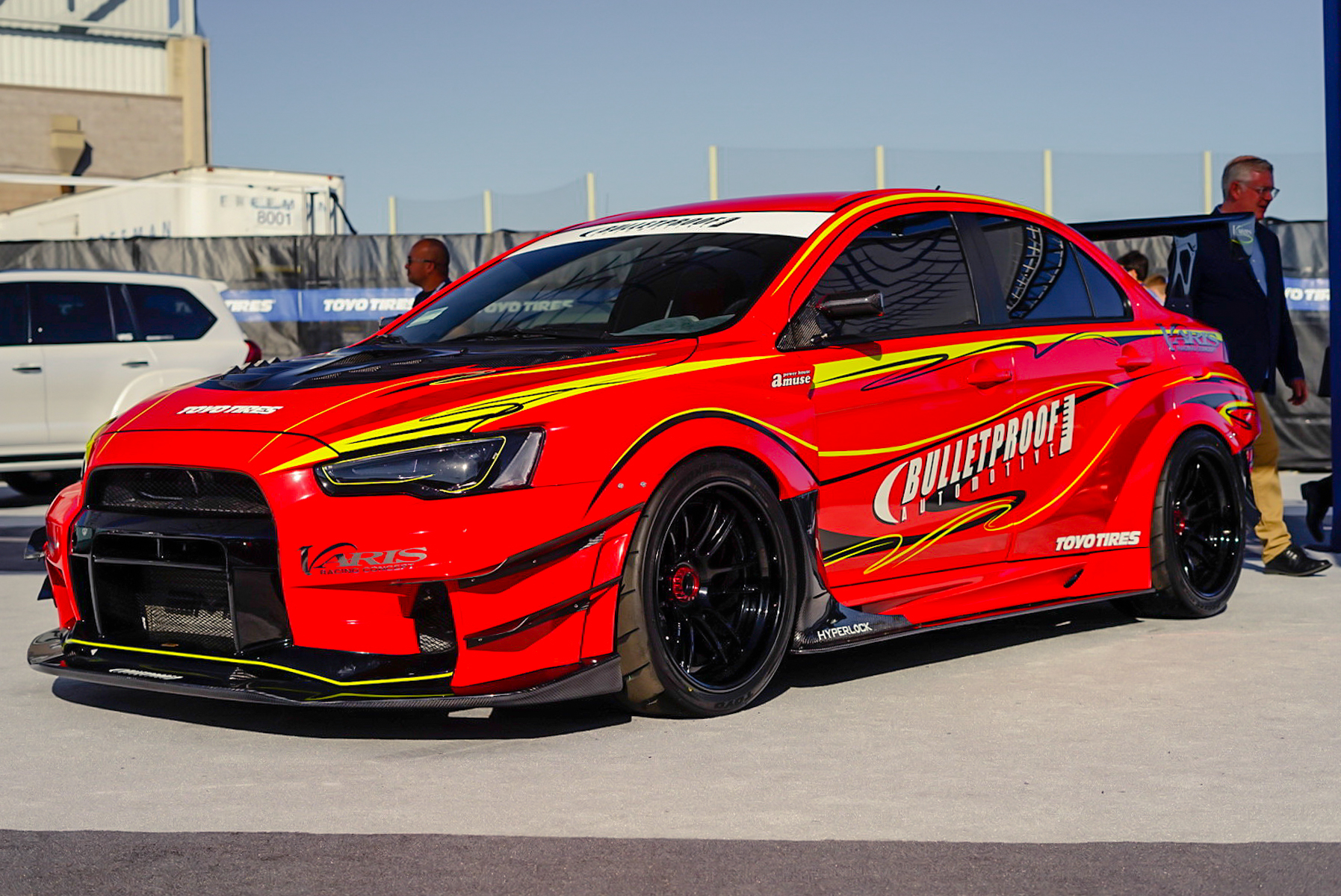 (Bulletproof Automotive's Mitsubishi Evolution X)
Dana Bathlasar's Lexus RC-F:
The Lexus RC-F has become the hottest car to mod in the last year or two. Our friend Mr. Bathlasar has turned his daily into a gorgeous show stopper. Dana's RC-F is fitted with a complete TRA Kyoto Pandem Widebody kit. The body and kit are wrapped in Avery Dennsion ColorFlow film, which looks very attractive when the sunshine hits the car. For his suspension, Dana went with the Air Runner Air Suspension System. As for performance, the RC-F prowls loudly with the ArmyTrix Valvetronic Stainless Steel exhaust system. Last but not the least, Dana debuted the new WORK Wheels Emotion CR3P on Toyo Tires Proxes T1 Sport tires. Expect to see more of this car in 2018!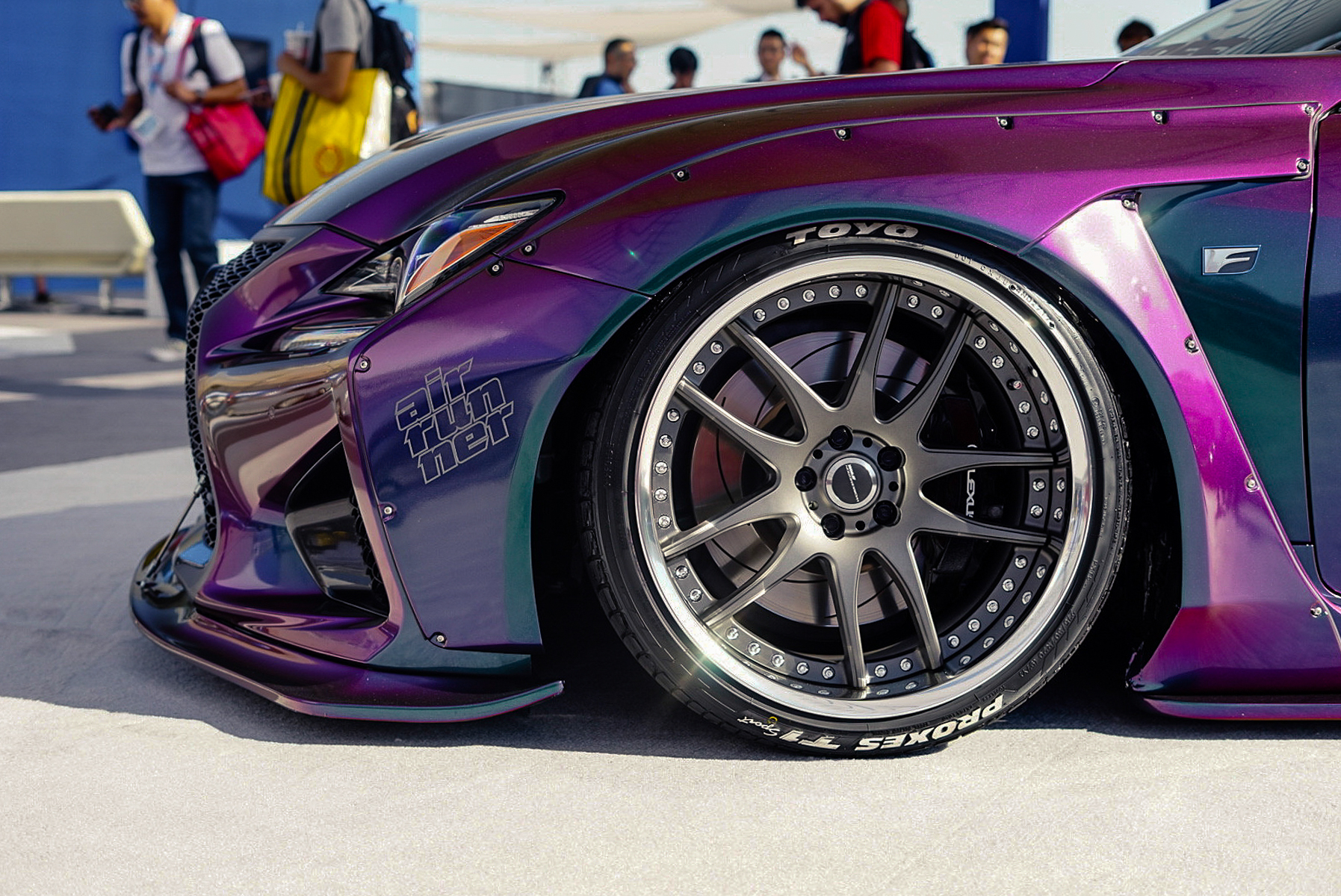 Willy Izaguirre's BMW E9 CSL:
I was exiting the back end of South Hall, which lead to the Toyo Tires Treadpass. I started walking around the booth first scoping out he newest debuts and radically insane car, SUV, and truck builds. Sitting next to Bulletproof Automotive's Mitsubishi Evolution X was Willy's Jon Sibal inspired 1973 BMW E9 CSL in Batmobile form. Jason Schmuck of Schmuck Built out of Mechanicsburg, PA did all of the fabrication work on the car. Lance Medina at Clasonpoint Collision did the body work and paint job. This car looked immaculate! I have never seen a BMW look so sleek, attractive in the way sits teasing you to drive it hard over 100mph on open road, and the amount of details I fell head over heels with. Custom carbon fiber aero parts, carbon fiber headlight covers, all done by Tony Spitaleri of Carbon Fiber Element.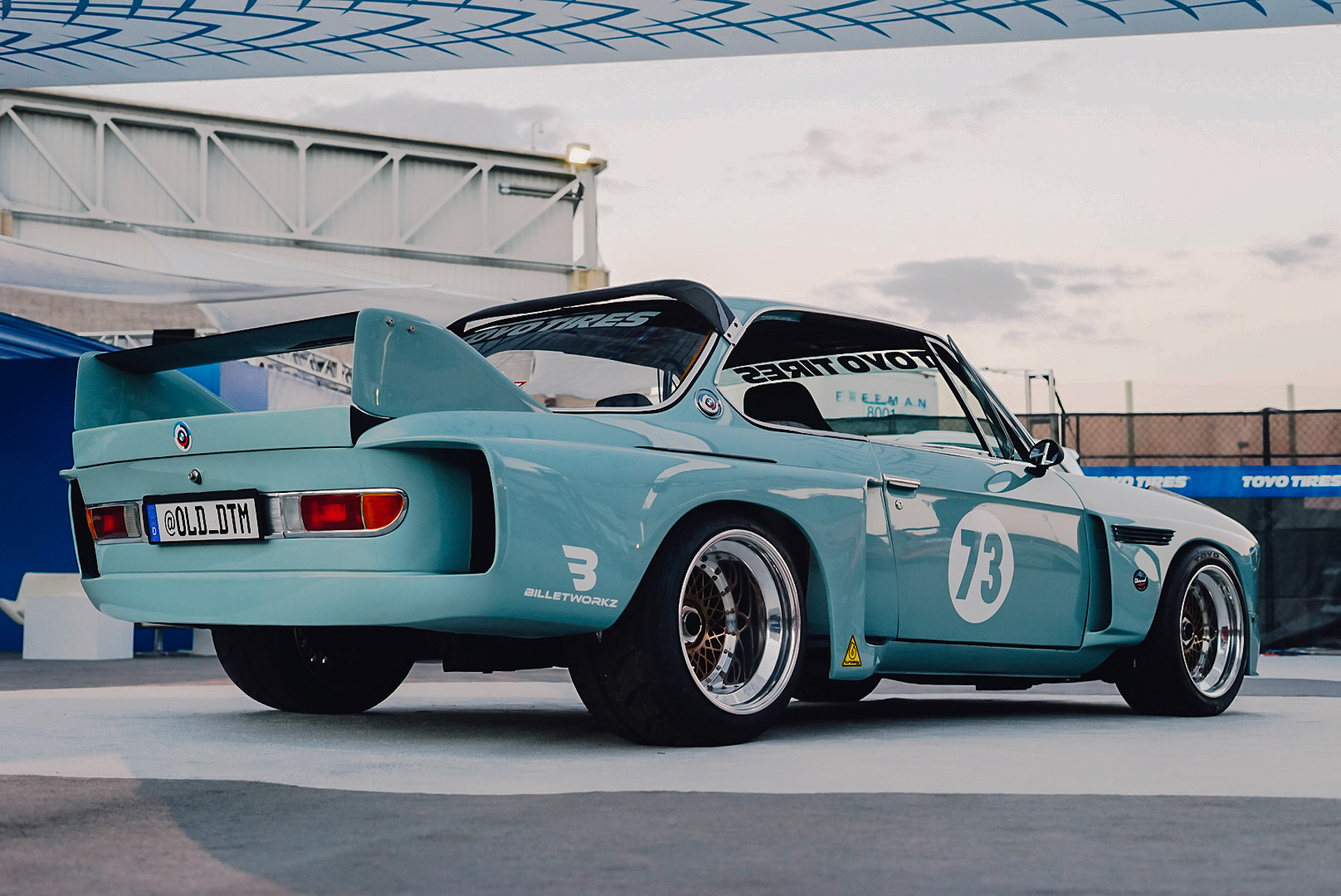 (Jon Sibal Inspired 73′ BMW E9 CSL)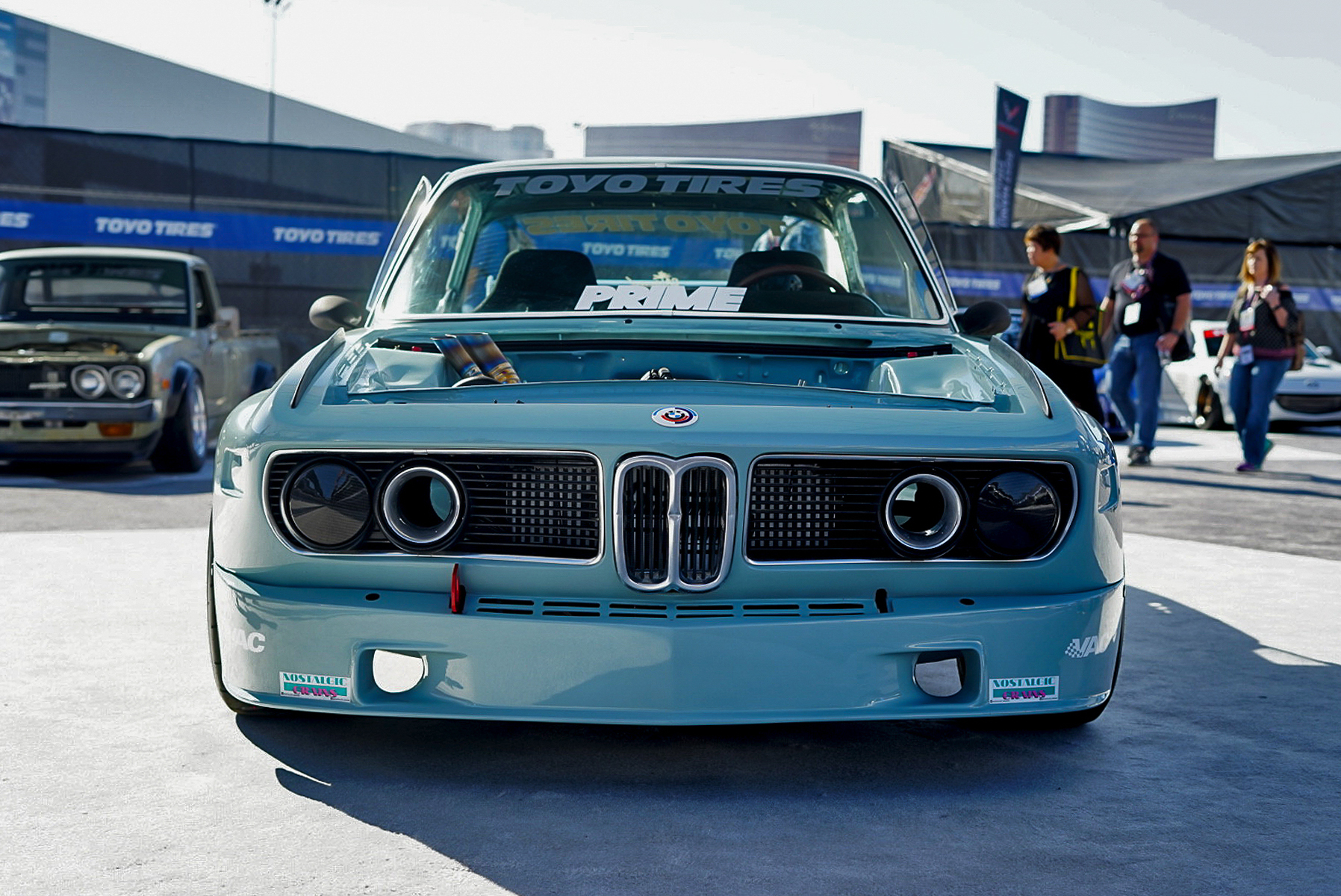 (Carbon Fiber Headlight Covers)
The engine is a S52 big single 62/66 Precision Turbo packing a mighty 550hp. Tial blow off valve, Precision Wastegate. OCD Works T51R mod, and the Vibrant Performance Intercooler and radiator core were fitted with Vibrant Performance titanium fittings. One of the many cool thing's about this car, is that the trunk has a trunk mounted radiator in it. Vented just a little bit for your eyes to see. The car is lowered on CAtuned coilovers with 30-way adjustable dampers. The wheel selection is very nostalgic, the BMW rolls on vintage BBS E57 (17×15.5 rear and 17×10.5) with Magnesium center locks. The wheels were wrapped in Toyo Tires R888r 255/40/17 up front and a meaty 315/35/17 in the rears.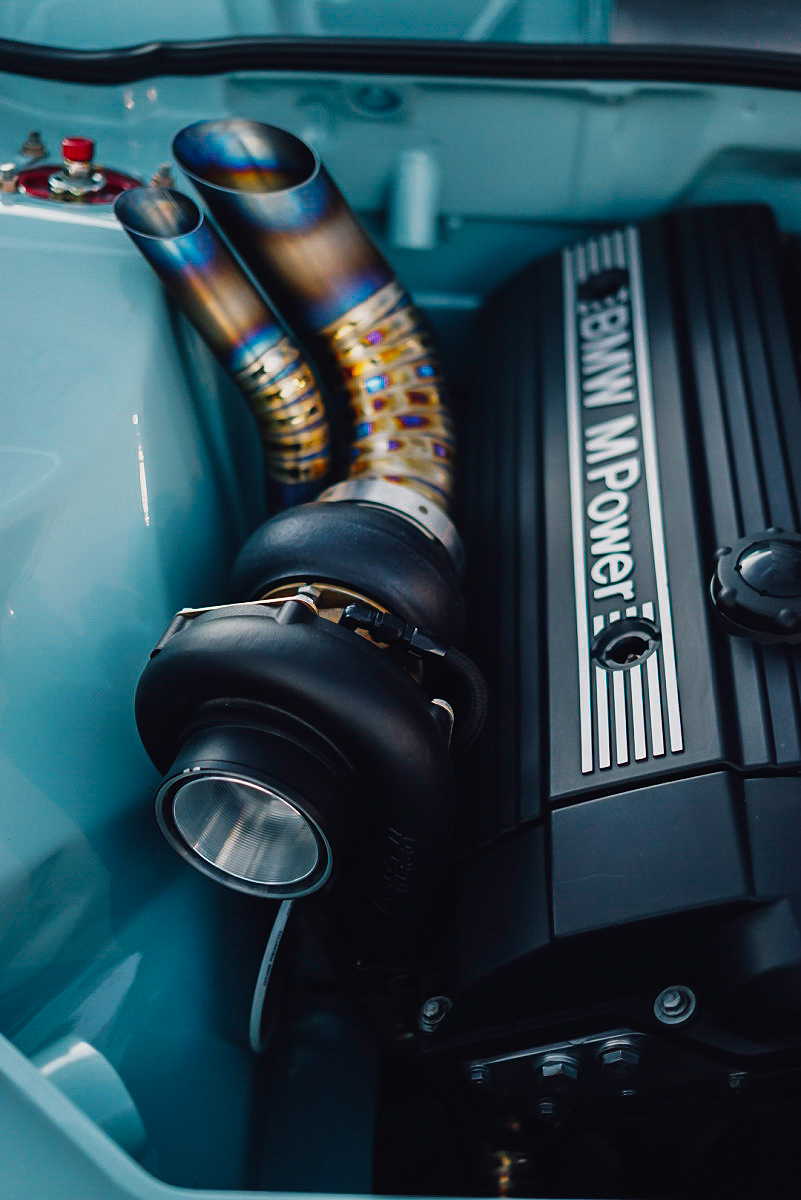 (BMW S52 w/ Precision 62/66 Turbo)
The interior pieces were tastefully fitted with carbon fiber accented pieces. A carbon fiber dash with custom SpeedHut Gauges. The Nardi wood steering wheel was made custom with Motorsports horn button. The fixed back seats were made with carbon fiber that were wrapped in M3 fabric. While I was shooting inside the car, Willy pointed out to me the shift knob. I looked in utter shock. See Willy own's and operates Nostalgic Grains. He custom makes shift knobs. Willy's shift know was a one-off shift knob that was wood yet had shredded money inside the knob. Badass in my opinion!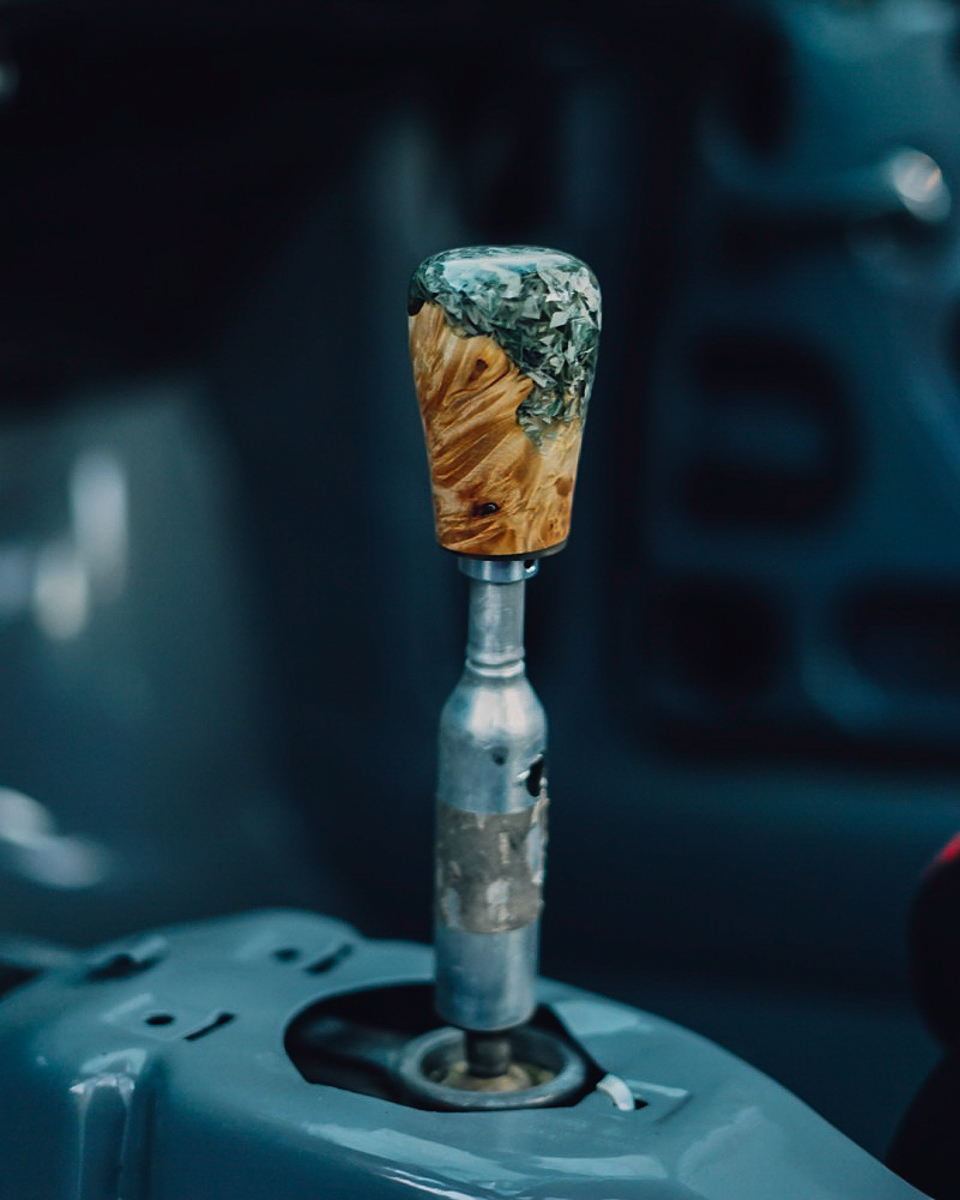 (Shredded Money Shift Knob by Nostalgic Grains)
Toyo Tires Treadpass booth brought forth some of the most amazing car builds at last years The SEMA Show 2017. I have been inspired even more as a car enthusiast to want to build a car for a larger scale to be displayed. Dominic Le's SR20DET powered Datsun Z, Jonny Grunwald's Pandem kitted Mazda RX-8,  Do these car's make you feel the same way? Giving you an empowering feeling to start a fresh new project build or restart on the current build you have. I am excited for what car builders and car enthusiast have in store for 2018! Please enjoy the images from last years The SEMA Show 2017.