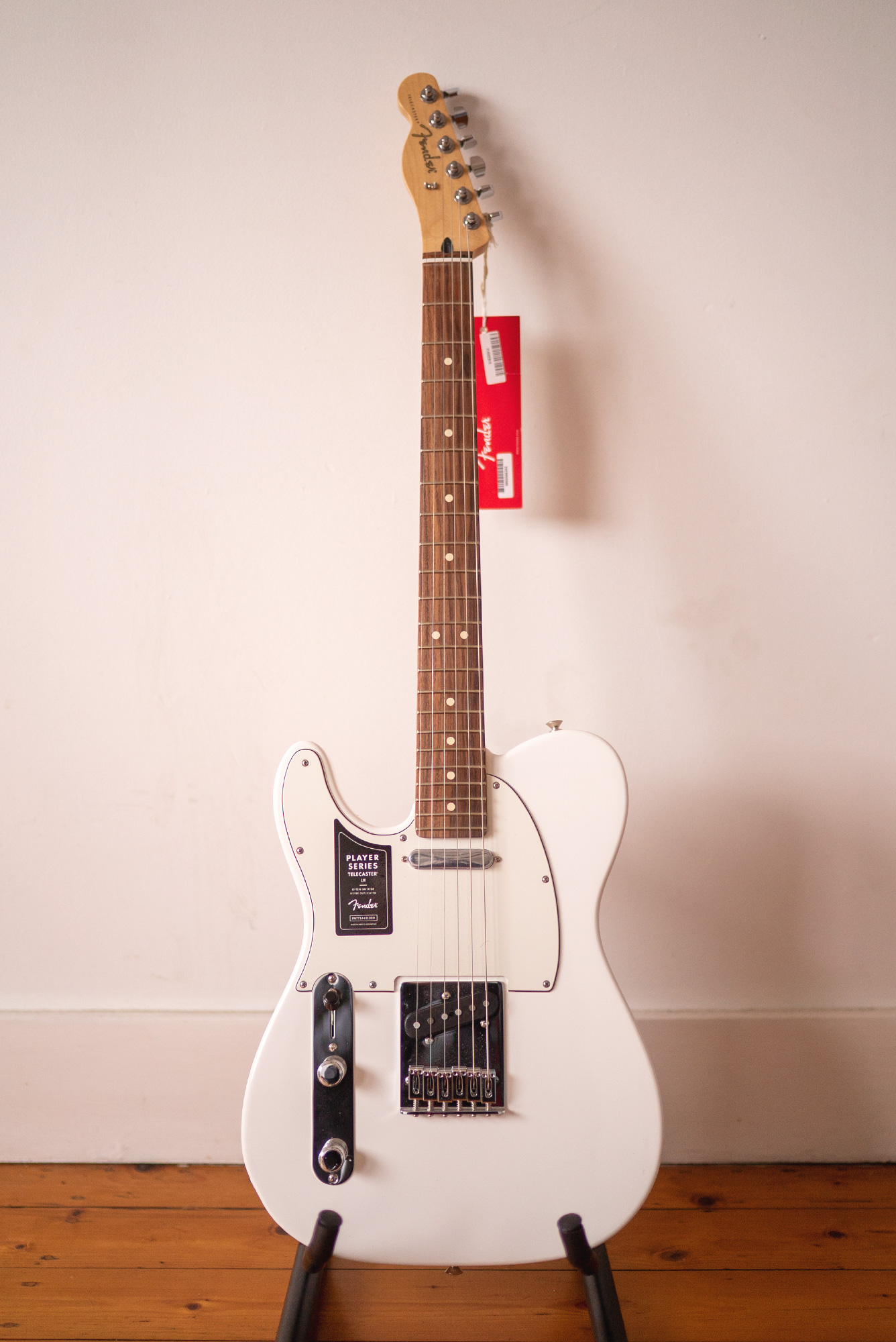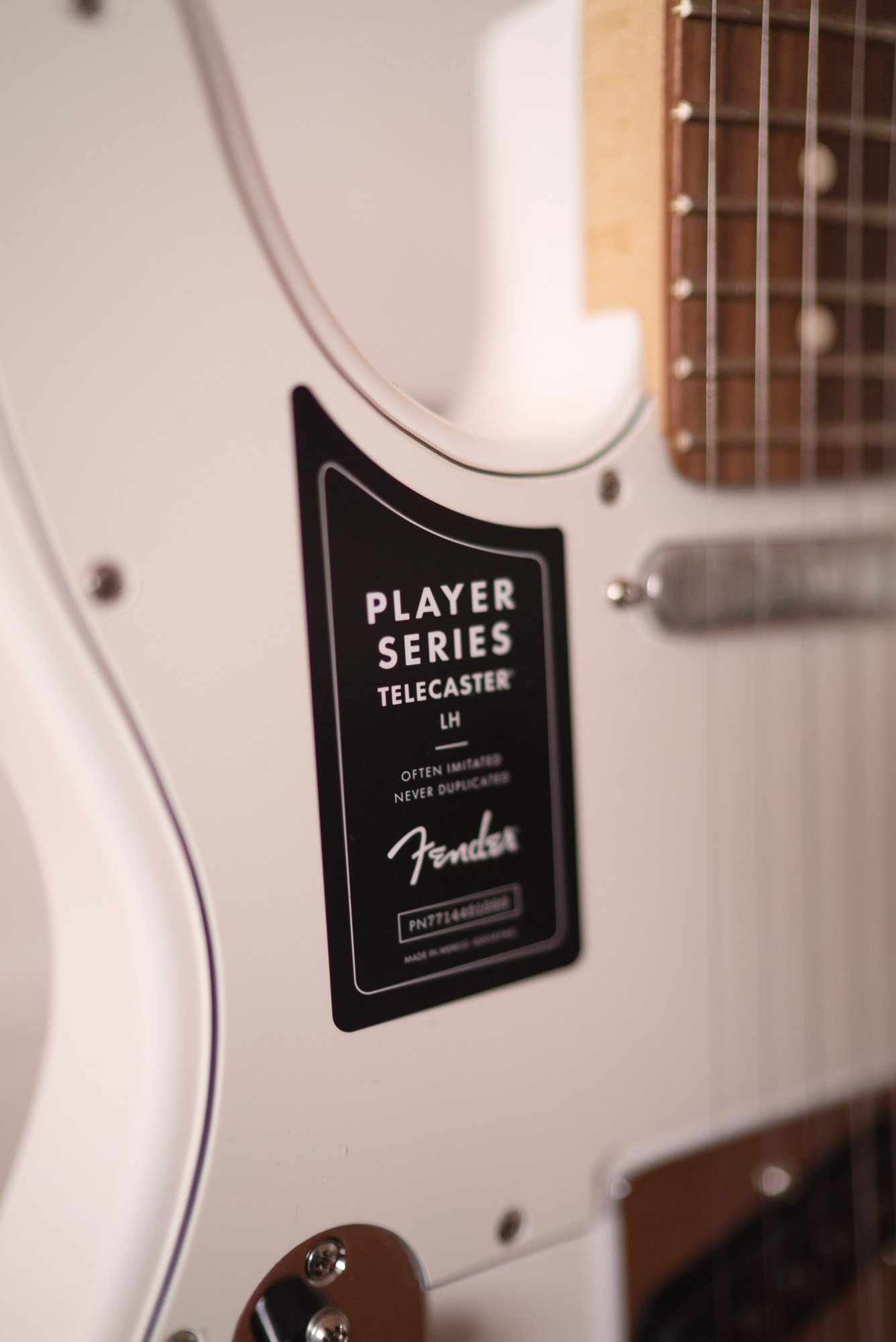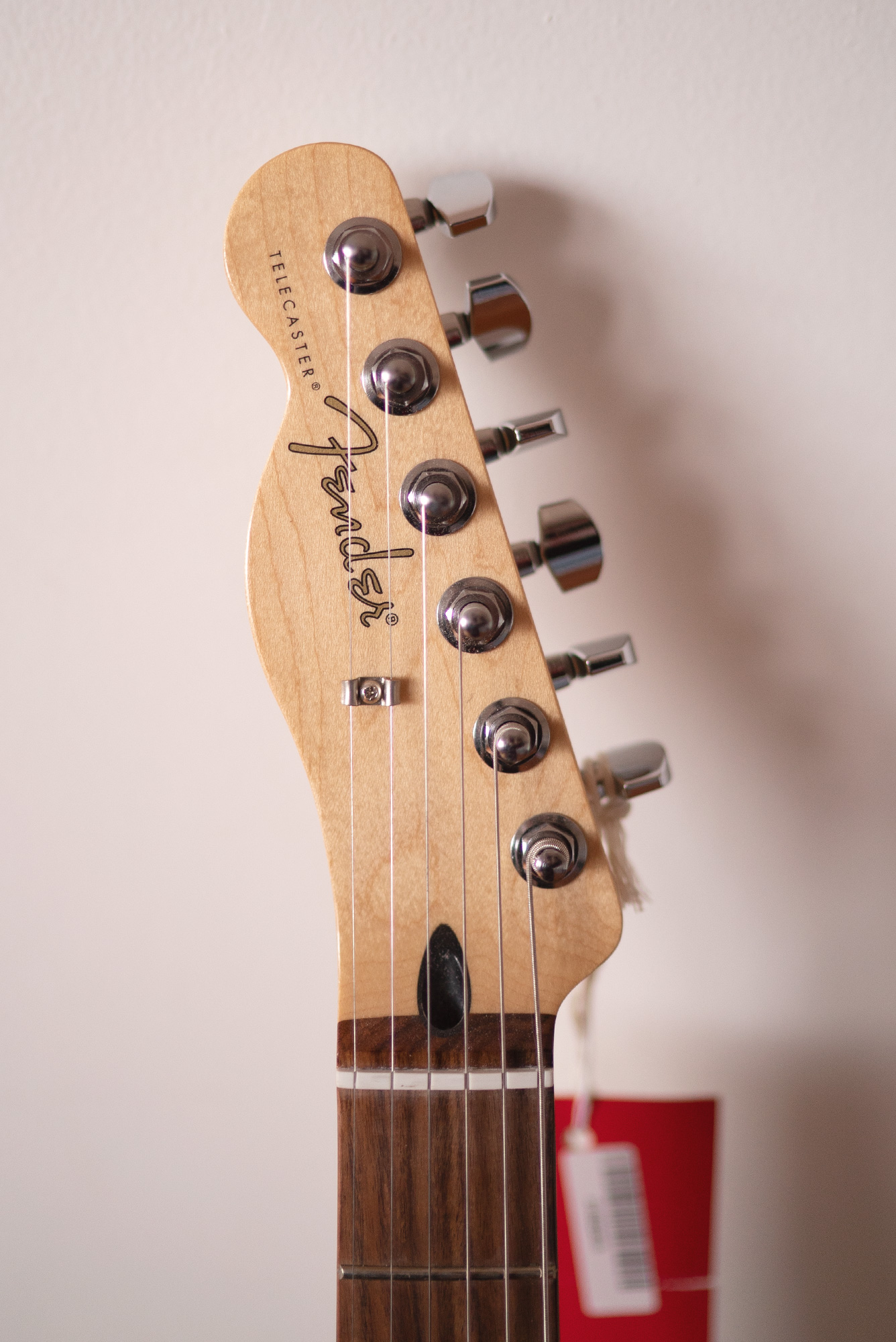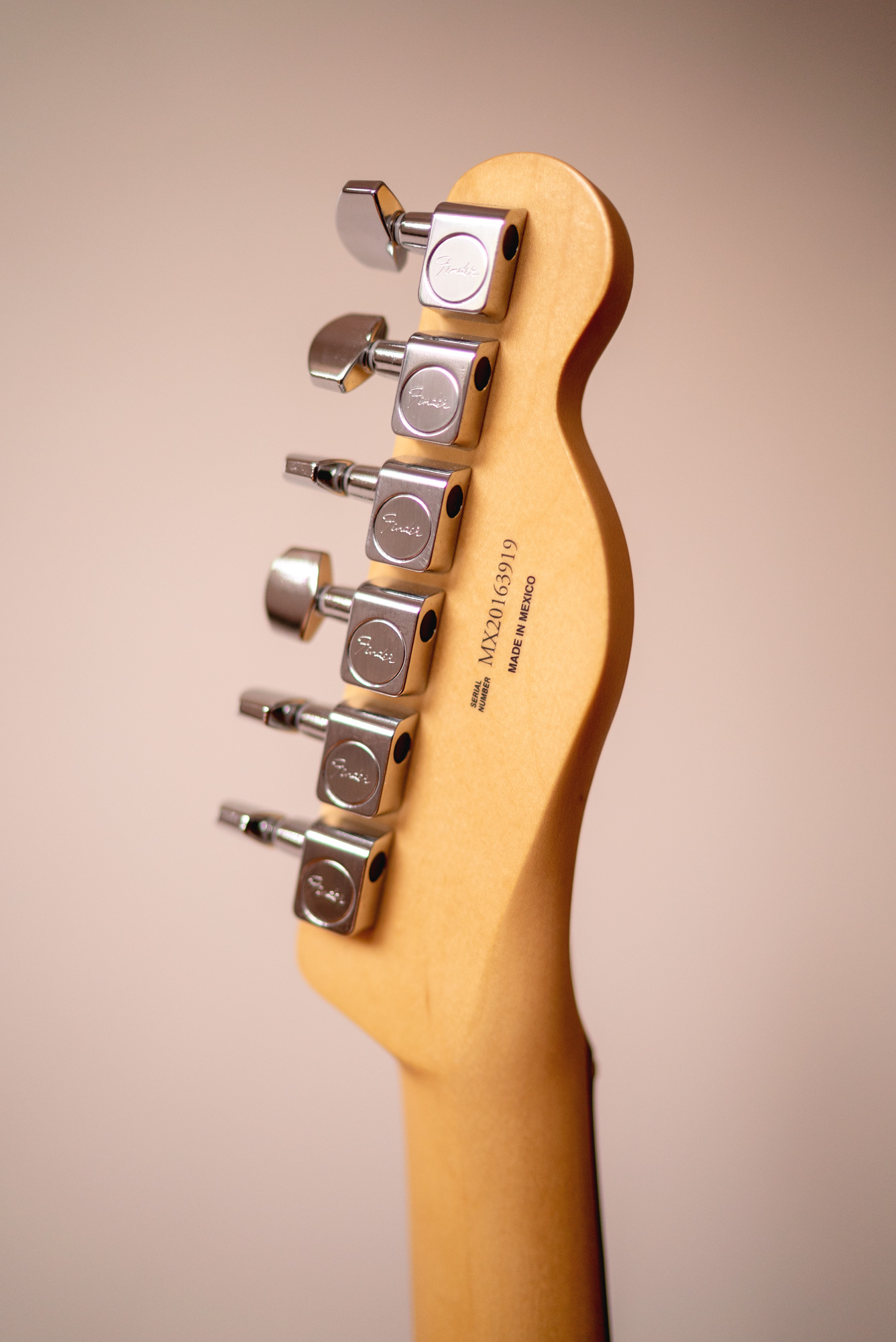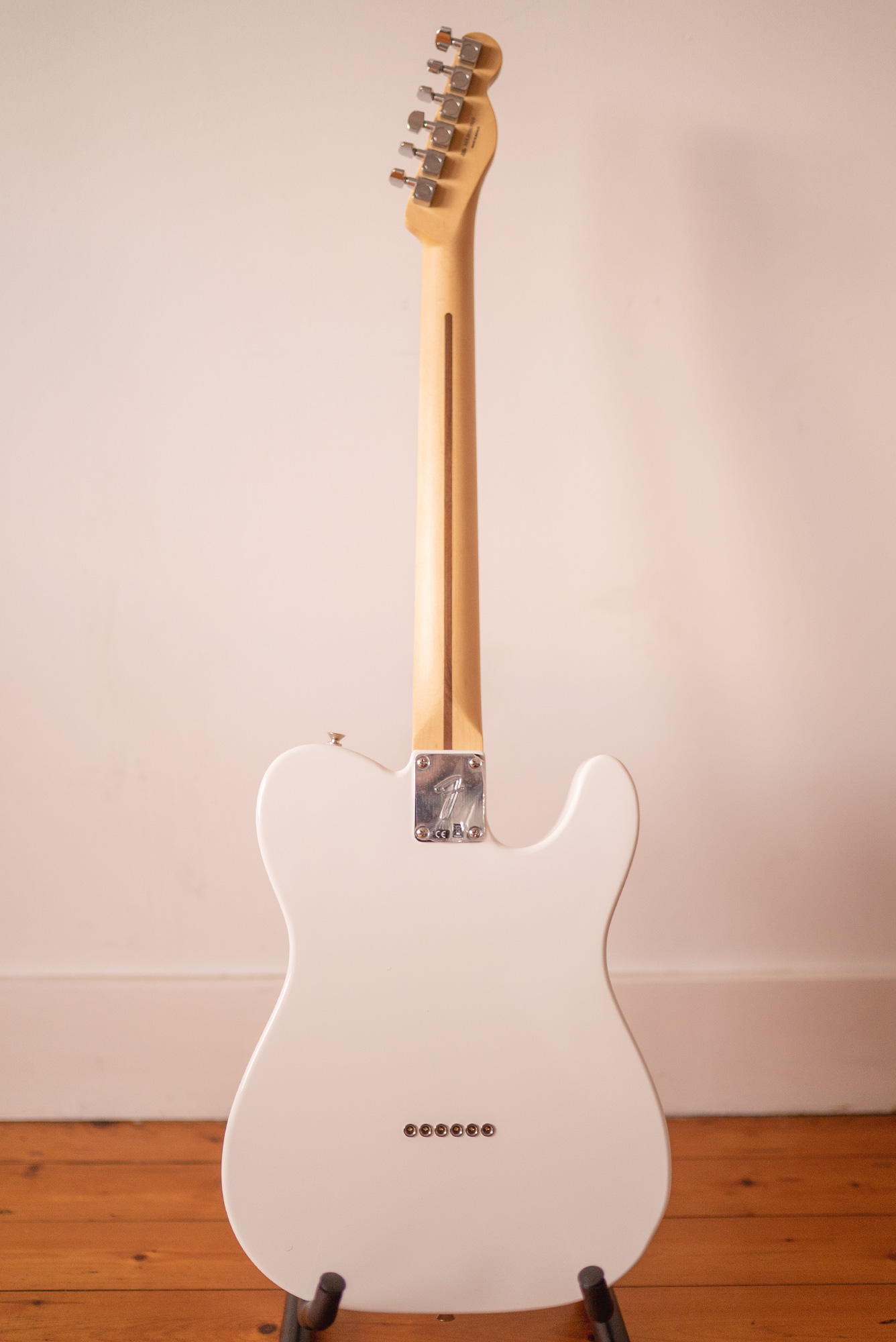 The one guitar that can do it all, the only guitar you need, every collection needs a Telecaster, less is more… it goes on and on but it seems like I've been avoiding Telecasters for the longest time. I actually made a Telecaster for my Year 12 High School Industrial Tech major, it played like crap though (sadly I don't have it anymore otherwise I'd love to try and fix it), and earlier this year I did buy an Artist TC59 Telecaster style guitar, but let's face it, the TC59 is not a Telecaster.
I spotted a brown sunburst MIM (Made in Mexico) Tele on Facebook Marketplace a couple of months ago, came really close to buying it but honestly wasn't a big fan of the old school sunburst finish, but then I spotted a MIM Tele in Polar White with a white pickguard and a maple fretboard on an official Fender YouTube video and yeah, clean, minimalist, modern, love at first sight!
Turns out Fender also sell the Polar White Tele in a lefty but sadly the lefty has pau ferro fingerboard instead of a maple fingerboard (which I much prefer), but hey, lefties can't be choosers.
The RRP on these is $1300 but I spotted one on sale at $950 and have been meaning to drop past that store to at least try it out, but earlier this week a photo of someone buying a lefty at Sunburst Music popped up on my Facebook feed. I commented under the post "you guys stock lefties?!" and the day after I got a message from Douglas, the shop owner, asking what kind of lefty I had in mind. I replied and said I'm keen on a Telecaster, either a MIM Tele in Polar White, or maybe even a much cheaper Squier Affinity. Turns out he had a lefty Tele in Polar White so I organised to drop in on the weekend to check it out, and that I did!
So yesterday morning was pretty hectic. It was pissing down rain and I'd just gone out to Caringbah to pick up the $50 Fender acoustic and then I headed straight for Sunburst Music in Coogee. They've expanded the shop and have split it in 2, half electrics, half acoustics. They've got so many beautiful guitars in there it's ridiculous, but as a lefty it's really hard for me to appreciate right handed guitars so I just honed in on the MIM Tele and telling Douglas the story of Mum taking me here 30 years ago to buy my first guitar, and that he had 2 lefties, a metal style guitar and a Japanese Tokai Strat which he thought was the better guitar, and really tried to sell it to me but I went for the metal thing instead… big regrets!
Douglas confessed that he's a Telecaster guy and that whilst so many Strat guys have tonnes of Strats in their collection, and Les Paul guys have tonnes of Les Pauls in their collection, you only need one Telecaster if you're a Telecaster guy! He sat me down, plugged me in and cranked the volume up and let me doodle away. What the fuck do you play in a guitar store? I kinda froze up to be honest, and the guitar kept going out of tune (I suppose no lefties have played it and the strings still need stretching), but the neck felt familiar to me, it's got a really similar satin smooth finish like the neck on my AM PRO II Strat.
Douglas offered to throw in the same amazing Fender hardcase that I got with the AM PRO II, but hey I'm not gigging, and really don't need another case, and whilst I was quite hesitant and felt really bad about asking if he would match the other shop's $950 price I asked and holy shit, he was happy to do it, so I walked out with it!
Player Telecaster
Body: Alder
Neck Material: Maple
Neck Finish: Satin Urethane Finish on Back of Neck with Gloss Urethane Headstock Face
Neck Shape: Modern "C"
Fingerboard: Pau Ferro
Fingerboard Radius: 9.5″
Number of Frets: 22
Frets Size: Medium Jumbo
String Nut: Synthetic Bone
Bridge Pickup: Player Series Alnico 5 Tele Single-Coil
Neck Pickup: Player Series Alnico 5 Tele Single-Coil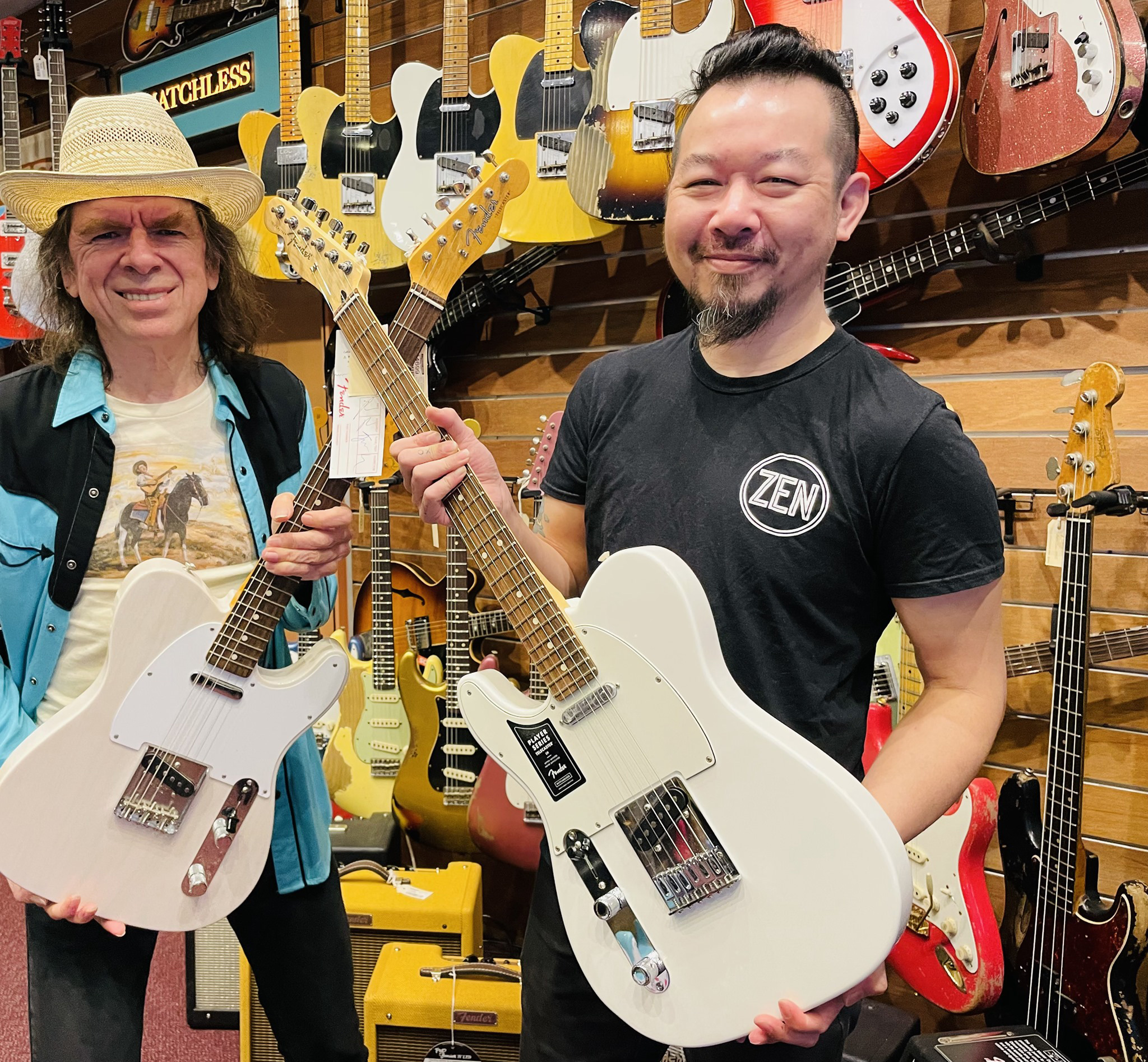 When I was 16 my Mum took me to this guitar shop in Coogee to buy my first guitar. Fast forward 30 years and not only is the guitar shop is still there, the guy who sold me my first guitar is still there too! Rock on Douglas!